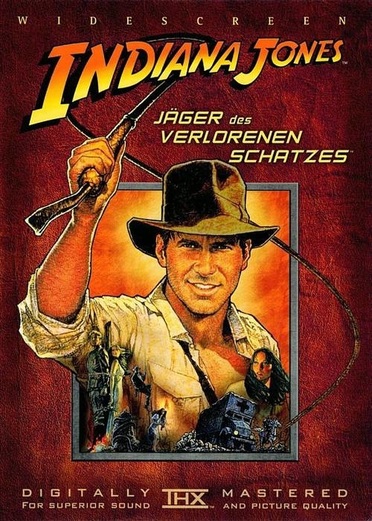 Indiana Jones: Jäger des verlorenen Schatzes
(1981)
Raiders of the Lost Ark
Indiana Jones - the new hero from the creators of JAWS and STAR WARS.










Stars: Harrison Ford, Karen Allen, Paul Freeman, Ronald Lacey, John Rhys-Davies, Denholm Elliott, Alfred Molina, Wolf Kahler, Anthony Higgins, Vic Tablian, Don Fellows, William Hootkins, Bill Reimbold, Fred Sorenson, Patrick Durkin, Matthew Scurfield, Malcolm W
Director: Steven Spielberg
Writer: Lawrence Kasdan, George Lucas, Philip Kaufman
Language: English
Studio: Paramount Pictures
Duration: 111
Rated: FSK-16
DVD Release: November 2003
Erlebe mit dem legendären Helden Indiana Jones™ (Harrison Ford) eines der größten Leinwandabenteuer aller Zeiten endlich auf DVD. Indiana Jones "Jäger des verlorenen Schatzes™" wurde akribisch restauriert, Bild für Bild überarbeitet und zeichnet sich durch den in THX überarbeiteten Dolby Digital Surround Sound aus. Begleitet von seiner unabhängigen und dickköpfigen Ex-Flamme Marion Reavenwood (Karen Allen) begibt sich der schlagfertige Archäologe auf die actionreiche Suche nach der geheimen Bundeslade. Um die Bundeslade vor den Nazis zu finden, muss sich Indy gegen Gift, Fallen, Schlangen und Verrat bewähren. Entdecke den dunkelsten Dschungel von Südamerika, die lebhaften Märkte von Kairo und die streng geheime U-Boot-Basis mit Indiana Jones als Deinem Führer durch Euer Abenteuer. Und werde letztendlich Zeuge der freigesetzten verheerenden Macht der Bundeslade. Natürlich ist Indy den Nazis auch hier einen Schritt voraus.
---
| | |
| --- | --- |
| Harrison Ford | Indy |
| Karen Allen | Marion |
| Paul Freeman | Belloq |
| Ronald Lacey | Toht |
| John Rhys-Davies | Sallah |
| Denholm Elliott | Brody |
| Alfred Molina | Satipo |
| Wolf Kahler | Dietrich |
| Anthony Higgins | Gobler |
| Vic Tablian | Barranca |
| Don Fellows | Col. Musgrove |
| William Hootkins | Major Eaton |
| Bill Reimbold | Bureaucrat |
| Fred Sorenson | Jock |
| Patrick Durkin | Australian Climber |
| Matthew Scurfield | 2nd. Nazi |
| Malcolm Weaver | Ratty Nepalese |
| Sonny Caldinez | Mean Mongolian |
| Anthony Chinn | Mohan |
| Pat Roach | Giant Sherpa |
| Christopher Frederick | Otto |
| Tutte Lemkow | Imam |
| Ishaq Bux | Omar |
| Kiran Shah | Abu |
| Souad Messaoudi | Fayah |
| Terry Richards | Arab Swordsman |
| Steve Hanson | German Agent |
| Frank Marshall | Pilot |
| Martin Kreidt | Young soldier |
| George Harris | Katanga |
| Eddie Tagoe | Messenger Pirate |
| John Rees | Sergeant |
| Tony Vogel | Tall Captain |
| Ted Grossman | Peruvian Porter |
| Peter Diamond | German Soldier |
| Romo Gorrara | German Soldier |
| Barrie Holland | archivist |
| Dennis Muren | Nazi Spy on the Airplane |
| Glenn Randall, Jr. | Flying Wing Mechanic |
| Michael Sheard | U-Boat Captain |
| George Lucas | Executive Producer |
| Howard Kazanjian | Executive Producer |
| Douglas Slocombe | Director of Photography |
| Michael Kahn | Film Editor |
| John Williams | Composer |
| Ben Burtt | Sound Designer |
| Roy Charman | production sound mixer |
| Bill Varney | Sound Re-Recording Mixer |
| Steve Maslow | Sound Re-Recording Mixer |
| Gregg Landaker | Sound Re-Recording Mixer |
| Norman Reynolds | Production Designer |
| Deborah Nadoolman | Costume Designer |
| Richard Edlund | Visual Effects |
| Leslie Dilley | Art Director |
| Rita Wakely | Costume Designer |
| Tom Smith | Make-Up Artist |
| Dickie Mills | Make-Up Artist |
| Chris Walas | Make-up Effects |
| Vic Armstrong | German Soldier (uncredited) |
| Darin Chambers | Nazi Supporter (uncredited) |
| Harry Fielder | German (uncredited) |
| Nick Gillard | German Soldier (uncredited) |
| Reg Harding | German Lieutenant (uncredited) |
| Billy Horrigan | Gobler's Gunner (uncredited) |
| Terry Leonard | Driver of German Truck (uncredited) |
| Rick Lester | German Soldier (uncredited) |
| Sergio Mioni | Driver of German Truck (uncredited) |
| Chris Parsons | Nazi Solder (uncredited) |
| Glenn Randall Jr. | Flying Wing Mechanic (uncredited) |
| Rocky Taylor | German Soldier (uncredited) |
| Frank Welker | Special Vocal Effects (voice) (uncredited) |
| Jane Feinberg | Casting Director |
| Mike Fenton | Casting Director |
| Mary Selway | Casting Director |
| Michael Ford | Set Decorator |
| Mike Lockey | Hairdresser |
| Patricia McDermott | chief hairdresser |
| Richard Mills | makeup artist (as Dickie Mills) |
| Jim Gillespie | key makeup artist (uncredited) |
| Patricia Carr | assistant production manager |
| Mohamed Ali Cherif | production supervisor: Tunisia |
| Dorothy Marchini | production manager: France |
| Hassine Soufi | production manager: Tunisia |
| Douglas Twiddy | Production Supervisor |
| Robert Watts | Production Manager (uncredited) |
| Roy Button | second assistant director |
| Patrick Cadell | second assistant director |
| Louis G. Friedman | second assistant director: Peru/Hawaii |
| Carlos Gil | first assistant director: second unit (as Carlos Gill) |
| Michael Hook | second assistant director: second unit |
| Vincent Joliet | first assistant director: France |
| Naceur Ktari | first assistant director: Tunisia |
| Michael D. Moore | second unit director (as Michael Moore) |
| David Tomblin | first assistant director |
| Julian Wall | second second assistant director (uncredited) |
| Frank Bruton | property master |
| Roy Carnon | Sketch Artist |
| Sharon Cartwright | art department assistant |
| Kenneth Clarke | supervising plasterer (as Kenneth Clark) |
| Ron Cobb | production artist |
Genre: Action, Adventure
Media: DVD
Sound: Dolby Digital