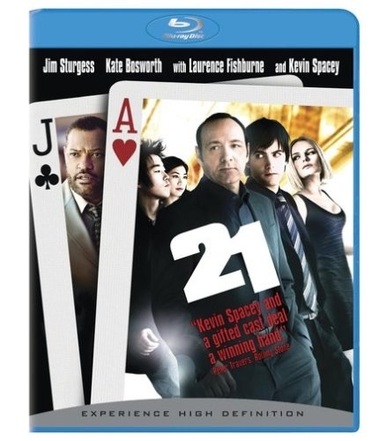 Inspired by the true story of five students who changed the game forever.










Stars: Jim Sturgess, Kevin Spacey, Kate Bosworth, Aaron Yoo, Liza Lapira
Director: Robert Luketic
Writer: Peter Steinfeld, Allan Loeb
Language: English
Studio: Columbia Pictures
Duration: 123
Rated: PG-13
DVD Release: July 2008
Ben Campbell is a young, highly intelligent, student at M.I.T. in Boston who strives to succeed. Wanting a scholarship to transfer to Harvard School of Medicine with the desire to become a doctor, Ben learns that he cannot afford the $300,000 for the four to five years of schooling as he comes from a poor, working-class background. But one evening, Ben is introduced by his unorthodox math professor Micky Rosa into a small but secretive club of five. Students Jill, Choi, Kianna, and Fisher, who are being trained by Professor Rosa of the skill of card counting at blackjack. Intrigued by the desire to make money, Ben joins his new friends on secret weekend trips to Las Vegas where, using their skills of code talk and hand signals, they have Ben make hundreds of thousands of dollars in winning blackjack at casino after casino. Ben only wants to make enough money for the tuition to Harvard and then back out. But as fellow card counter, Jill Taylor, predicts, Ben becomes corrupted by greed and his arrogance at winning which lets his feelings get in the way, and it also puts Professor Rosa, as well as the group, on the radar of a brutal casino security enforcer, named Cole Williams, who holds a personal grudge of some kind against Rosa which threatens to undo everything the students have learned and earned.
---
| | |
| --- | --- |
| Jim Sturgess | Ben Campbell |
| Laurence Fishburne | Cole Williams |
| Kevin Spacey | Prof. Micky Rosa |
| Kate Bosworth | Jill Taylor |
| Aaron Yoo | Choi |
| Liza Lapira | Kianna |
| Jacob Pitts | Jimmy Fisher |
| Jack McGee | Terry |
| Josh Gad | Miles Connoly |
| Sam Golzari | Cam |
| Helen Carey | Ellen Campbell |
| Jack Gilpin | Bob Phillips |
| Donna Lows | Planet Hollywood Dealer #1 |
| Butch Williams | Planet Hollywood Dealer #2 |
| Jeffrey Ma | Planet Hollywood Dealer Jeff |
| David Sardy | Composer |
| Russell Carpenter | Cinematographer |
| Elliot Graham | Editor |
| Ben Campbell | Planet Hollywood Dealer Jeff |
| Missy Stewart | Production Designer |
Genre: Drammatico
Media: Blu-ray
Sound: DTS