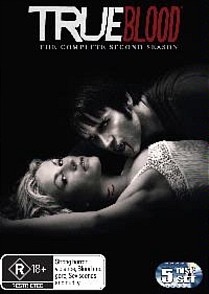 True Blood: (Season 2)
(2009)
True Blood
Show your true colours










Stars: Chris Bauer, Anna Paquin, Sam Trammell, Ryan Kwanten, Rutina Wesley, Stephen Moyer
Director: Daniel Minahan
Writer: Alexander Woo
Language: English
Studio: Your Face Goes Here Entertainment
Duration: 55
Rated: Not Rated
DVD Release: May 2011
When we last checked in with Sookie Stackhouse, the mystery surrounding a Bon Temps serial killer had finally been solved, to the town'sinfinite relief. Sookie is thrilled that her vampire soulmate, Bill Compton, has escaped with his life (or is it death?) after coming to her daylight defense. On other fronts, Sookie's pal Tara Thornton sets downnew roots with an affluent benefactor, Maryann Forrester; Sam Merlotte resolves to get in shape-shift shape after a forest foray; roguish brother Jason finds new purpose with an anti-vampire sect; and detectiveAndy Bellefleur licks his wounds after being proven wrong about Jason's guilt. But just as things are settling down, some deadly new twists threaten to ratchet up the saga of Sookie Stackhouse to bloody new heights!
SEASON 2, EPISODE LISTING:
Episode 1: Nothing But the Blood
Original Air Date—14 June 2009
Two weeks later. Sookie and the staff at Merlotte's Bar & Grill are on edge when they find the dead body of a woman, who turns out to be Tara's fake exorcist Miss Jeanette (not Lafayette), in a parked car with her heart torn out. Detective Andy and the sheriff investigate and apparently the town of Bon Temps has a new serial killer in their mists. Now that Bill has turned the not-so-innocent Jessica Hamby into a vampire, she is living with him at his mansion and he is trying to teach her their own unique code of ethics. Sookie isn't too sure she likes the fact that Bill has this young, attractive woman living him, but their own relationship and emotions are too strong to set aside. Meanwhile, Tara is still living in Maryann's luxurious home and she continues flirting with Eggs who is also living there. Maryann has a few choice words for Tara's mother, Lettie Mae, when they meet. It also turns out that Sam Merlotte and Maryann have quite a history together and Sam tries to make amends, but Maryann has her own ideas. Also, Jason Stackhouse, who found religion while temporarily in jail, now considers going off to Texas for a Church-run leadership seminar for the Fellowship of the Sun. Elsewhere, Lafayette finds himself chained in a basement dungeon with a few other prisoners, and a new one is thrown in - the hick who was gay-bashing him in Merlotte's. Eric has some questions for him regarding "a fire that killed three of our own", and on the way the hick burns his face with a silver cross, prompting Eric to tear him apart, with Lafayette witnessing the gruesome event.
True Blood: Season 2: Episode 2 -- A clip from second episode of "True Blood," airing Sundays on HBO.

Episode 2: Keep This Party Going
Original Air Date—21 June 2009
Having kissed and made up, Sookie and Bill's relationship seems stronger than ever. Bill still has the problem of Jessica, who is proving to be just a bit of a wild child. Clan leader Eric Northman again wants to use Sookie's services. Feeling guilty about her role in having Jessica made into a vampire, Sookie agrees to take her to her home where she promises she just want to see her parents and sister one more time. Things get out of hand when she jumps out of the car and she and Sookie are soon paying a visit. It's left to an outraged Bill to resolve everything. Jason attends the leadership seminar run by the Church of the Sun and makes quite a first impression. Maryann visits Sam Merlotte's bar with interesting effects. She also reminds Sam of just who is the most powerful between them. Lafayette manages to escape from Eric's dungeon but, unable to get away completely, suggests an alternate way out to his captors.

Episode 3: Scratches
Original Air Date—28 June 2009
During the drive back to Bon Temps, an outraged Bill tells Sookie, in no uncertain terms, that she committed a grave error in letting Jessica visit her family which nearly resulted in Jessica killing her stern and brutal father. Hurt and upset, Sookie decides to walk the 20 miles home but doesn't get very far when she is attacked by a half-bull, half-man beast leaving huge gashes on her back. When his blood is unable to revive her, Bill turns to Eric for assistance and it's determined she has somehow been poisoned. Both of them are puzzled however by the beast that attacked her and have no idea what they may be up against. Once recovered, Sookie makes a deal for Lafayette's release. Meanwhile, Maryann throws a big party at her house, but it's all a little too wild for Tara. Sam Merlotte wants to pack it in for a while and leave town. Wild child Jessica goes to Merlotte's bar where she meets Hoyt Fortenberry and they immediately hit it off. New waitress Daphne decides to go for a midnight swim in the nude with Sam and she reveals something quite interesting.

Episode 4: Shake and Fingerpop
Original Air Date—12 July 2009
As per her deal with Eric, Sookie and Bill travel to Dallas to help find the missing head of the local vampire community. They take Jessica along but on arrival, the driver meeting them attempts to abduct Sookie. Maryann throws a party for Tara who has now moved into Sookie's house. A lot of people show up and once again she weaves her magic, revealing something interesting about herself in the process. Sam Merlotte isn't sure starting a relationship with Daphne is a good idea but she tells him she knows his secret. Lafayette is still recovering from his wounds when Eric makes him a proposition. Jason is still making an impression at Church camp and is asked to move in with Sarah and Steve Newlin.

Episode 5: Never Let Me Go
Original Air Date—19 July 2009
Still in Dallas with Bill and Jessica, Sookie is intent on keeping her part of the bargain and try to find the missing Godric despite the strange behavior of his cohorts. Eric tells Bill his true reason for wanting to find Godric. Sookie tries to learn more from the bellhop who has telepathic powers. Back in Bon Temps, most are still recovering from the effects of Tara's birthday party. Sam learns that he and Daphne have more in common that he could ever have imagined. Maryann announces that she is moving into Sookie's house and when told that she can't, casts a spell on Tara to get her to change her mind. Over at the Light of Day Institute, Jason continues to impress with his leadership skills. Fed up with husband Steve's lack of attention and respect however, Sarah Newlin decides to spend a little private time with Jason.

Episode 6: Hard-Hearted Hannah
Original Air Date—26 July 2009
Tara and Eggs are driving down the highway when he suddenly realizes he has memories of having been there before. As he explores the nearby woods, he realizes it is an evil place. Sam and Daphne are having a good time and go frolicking in the woods. She has a surprise for him that is not welcome. Eric is out to take possession of Sookie and has Bill's old girlfriend, who has not seen him for 70 years, come to town. We learn that Bill was not always the gentle, mild-mannered vampire he is today. In Dallas, Sookie is partnered with Hugo - another human who is dating a vampire - for their visit to the Light of Day Institute. Posing as an engaged couple looking for a church to wed, they meet the Newlins and have a tour of the church - but Steve also has a surprise for them. Jason is asked to build a scaffold for a sunrise ceremony where a vampire will be exposed to the dawn sun before the entire congregation. Jason is having serious doubts about whether he wants to be part of this group.

Episode 7: Release Me
Original Air Date—2 August 2009
Still being held in the basement at the Church, it becomes obvious to Sookie that Steve knew they were coming, but is not sure why. That tells her there is a spy among them. She tries to get a message to Bill, but he is being held prisoner by his maker, who refuses to let him go after the woman he loves. In flashbacks, Bill's conversion to a less violent lifestyle is revealed. When Steve learns Sookie's true identity, he makes the connection with Jason and assumes he's a spy. As they begin to wreak their vengeance, Sookie is saved by someone she has yet to meet. Back at the hotel Jessica and Hoyt decide to sleep together. In Bon Temps, Sam manages to escape, courtesy of a drunken Andy Bellefleur. Any plans he may have had for getting even with Daphne are overtaken by Maryann who has her own plans for her acolyte. The rest of the revelers have no memory of what happened the night before.

Episode 8: Timebomb
Original Air Date—9 August 2009
Having saved Sookie, Godric orders Eric to leave the premises with her - and to do so peacefully. Unfortunately, Steve Newlin and his followers are waiting for them in the Church and he isn't too choosy as to which vampire they use for their sunrise ceremony. Godric tries a different approach and hopes to make peace with Steve, who adamantly opposes any such possibility. Safely returned to their lair, Godric's peaceful approach and lack of desire for revenge doesn't sit well with some of his followers. Steve also has a surprise for him. In Bon Temps, Eggs tells Tara that he's blacked out again and they try to piece together where he's been. Maryann prepares a special dish for them. Sam Merlotte finds himself under arrest when Daphne's body is found in the restaurant freezer. Having finally slept together, Jessica and Hoyt discover a disadvantage to Jessica being a vampire.

Episode 9: I Will Rise Up
Original Air Date—16 August 2009
Vampires and humans clean up in the aftermath of the explosion. Eric tricks Sookie into drinking some of his blood, much to Bill's dismay. As a result of the lapse in security, Godric's leadership falls under review but his response surprises everyone, especially Eric, who begs him not to go through with his plan. In Bon Temps, Maryann is out to find Sam Merlotte and complete the ritual sacrifice. She casts a spell on everyone in Sam's bar to get them to look for him. Lafayette and Tara's mother forcibly remove her from Sookie's house. Hoyt and Jessica get used to their situation and Hoyt decides it's time to introduce his true love to his vampire-hating mother.

Episode 10: New World in My View
Original Air Date—23 August 2009
Sookie, Jason and Bill return to Bon Temps only to find the town looking like a disaster area. Everyone is under Maryann's spell and looking for Sam Merlotte who has been shape shifting to avoid capture. At Bill's house, they find that Hoyt Fortenberry's mother Maxine is in residence, also under the spell and driving Jessica to the breaking point. At Sookie's house they find Maryann in firm control. Bill has a nasty experience with her but Sookie seems to have a strange power that hasn't been seen before. At Lafayette's house, they find Tara who is in a deep trance. No one, even Bill, has seen anything quite like this but he knows someone who may be able to explain everything.

Episode 11: Frenzy
Original Air Date—30 August 2009
Bill visits the vampire Queen of Louisiana to see what he can learn about Maryann and how they might be able to defeat her. The Queen isn't too preoccupied with Bill's requirements but does eventually tell him what has to be done. Back in Bon Temps, those who are not under Maryann's control plan their next moves. Sam Merlotte decides they need help and visits Eric who reluctantly agrees to see what he can do. Sookie and Lafayette have to try and rescue Tara yet again after she escapes and returns to Sookie's house in an attempt to save Eggs. Hoyt storms out of Bill's house after he and Jessica have a big fight over his mother. His mother reveals a few truths about his father.

Episode 12: Beyond Here Lies Nothin'
Original Air Date—13 September 2009
The mayhem in Bon Temps reaches a fever pitch as Maryann prepares for her ultimate bestial sacrifice, conscripting Sookie to be Maid of Honor at the bloody nuptials. Meanwhile, Sophie-Anne warns Eric to keep the lid on Bill's inquisitiveness; Jason leads Andy into the heroic abyss; and Hoyt has a hard time swallowing Maxine's endless stream of insults. Deliberating on what may be his final move to save Sookie and the town, Sam is forced to put his trust, and his life, in a most unlikely ally.
---
| | |
| --- | --- |
| Anna Paquin | Sookie Stackhouse |
| Stephen Moyer | Bill Compton |
| Sam Trammell | Sam Merlotte |
| Ryan Kwanten | Jason Stackhouse |
| Rutina Wesley | Tara Thornton |
| Chris Bauer | Andy Bellefleur |
| Nelsan Ellis | Lafayette Reynolds |
| Jim Parrack | Hoyt Fortenberry |
| Carrie Preston | Arlene Fowler |
| Alexander Skarsgård | Eric Northman |
| Todd Lowe | Terry Bellefleur |
| Deborah Ann Woll | Jessica Hamby |
| Kristin Bauer | Pam De Beaufort |
| William Sanderson | Sheriff Bud Dearborne |
| Kevin Alejandro | Jesus Velasquez |
| Marshall Allman | Tommy Mickens |
| Jessica Tuck | Nan Flanagan |
| Adina Porter | Lettie Mae Thornton |
| Dale Raoul | Maxine Fortenberry |
| Joe Manganiello | Alcide Herveaux |
| Lauren Bowles | Holly Cleary |
| Michael McMillian | Steve Newlin |
| Michelle Forbes | Maryann Forrester |
| Michael Raymond-James | Rene Lenier |
| Lindsay Pulsipher | Crystal Norris |
| John Billingsley | Mike Spencer |
| Brit Morgan | Debbie Pelt |
| Mehcad Brooks | Eggs |
| Mariana Klaveno | Lorena Krasiki |
| Denis O'Hare | Russell Edgington |
| Janina Gavankar | Luna Garza |
| Fiona Shaw | Marnie Stonebrook |
| Tara Buck | Ginger |
| Patricia Bethune | Jane Bodehouse |
| Tanya Wright | Deputy Kenya Jones |
| Anna Camp | Sarah Newlin |
| Adam Leadbeater | Karl |
| Lois Smith | Adele Stackhouse |
| J. Smith-Cameron | Melinda Mickens |
| Alec Gray | Coby Fowler |
| Laurel Weber | Lisa Fowler |
| Ashley Jones | Daphne Landry |
| James Harvey Ward | Felton Norris |
| Evan Rachel Wood | Sophie-Anne Leclerq |
| Dean Chekvala | Roy (8 episodes, 2011) |
| Fiona Dourif | Casey (8 episodes, 2011) |
| Paola Turbay | Antonia Gavilán |
| Aisha Hinds | Miss Jeanette |
| Grant Bowler | Cooter |
| Allan Hyde | Godric |
| Wes Brown | Luke McDonald |
| Theo Alexander | Talbot |
| James Frain | Franklin Mott |
| Daniel Buran | Marcus Bozeman |
| Cooper Huckabee | Joe Lee Mickens |
| John Rezig | Deputy Kevin Ellis |
| Damion Poitier | Duprez / ... (7 episodes, 2009-2011) |
| Lizzy Caplan | Amy Burley |
| Annie Fitzgerald | Kirsch (6 episodes, 2011) |
| Gregory Sporleder | Calvin Norris |
| Tess Parker | Rosie (6 episodes, 2008-2010) |
| Don Swayze | Gus |
| Melissa Rauch | Summer |
| Lynn Collins | Dawn Green |
| Courtney Ford | Portia Bellefleur |
| Lindsey Haun | Hadley Hale |
| Valerie Cruz | Isabel |
| Lara Pulver | Claudine Crane |
| Natasha Alam | Yvetta |
| Vedette Lim | Naomi (5 episodes, 2011) |
| Chris Coy | Barry |
| Stephanie Erb | Luellen (5 episodes, 2011) |
| Dendrie Taylor | Beverleen (5 episodes, 2011) |
| Chad Todhunter | Trevor |
| Aaron Perilo | Blackburn |
| Chloe Noelle | Emma Garza |
| Brendan McCarthy | Nate |
| Brandon Molale | Officer Bucky Featherstone (5 episodes, 2011) |
| Stephen Root | Eddie Gauthier |
| Raoul Trujillo | Longshadow |
| Zeljko Ivanek | Magister |
| Patrick Gallagher | Chow |
| Graham Shiels | Liam |
| John Prosky | David Finch |
| Caleb Moody | Royce |
| Alexandra Breckenridge | Katerina Pelham |
| Nondumiso Tembe | Mavis (4 episodes, 2011) |
| Greg Collins | Gabe |
| Blaine Saunders | Becky (4 episodes, 2011) |
| Katherine M. O'Connor | Wiccan / ... (4 episodes, 2010-2011) |
| Danielle Sapia | Maudette Pickens |
| Danielle James | Randi Sue (3 episodes, 2008) |
| Alfre Woodard | Ruby Jean Reynolds |
| Andrew Rothenberg | Malcolm |
| Aunjanue Ellis | Diane (3 episodes, 2008) |
| Dane DeHaan | Timbo (3 episodes, 2011) |
| Peter Macdissi | Luis Patiño |
| Jeremy Denzlinger | Wayne |
| William Schallert | Mayor Norris |
| Kanin Howell | Chuck |
Genre: Drama, Horror, Romance, Tv
Media: DVD
Sound: Dolby Digital 5.1