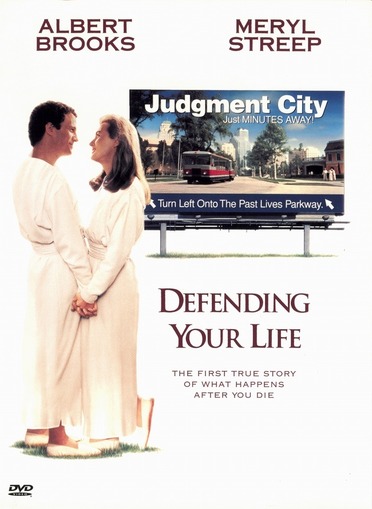 Defending Your Life
(1991)
The first true story of what happens after you die.










Stars: Albert Brooks, Meryl Streep, Rip Torn, Roger Behr, Beth Black
Director: Albert Brooks
Writer: Albert Brooks
Language: English
Studio: Warner Home Video
Duration: 112
Rated: PG
DVD Release: April 2001
Yuppie Daniel Miller is killed in a car accident and goes to Judgment City, a waiting room for the afterlife. During the day, he must prove in a courtroom-style process that he successfully overcame his fears (a hard task, given the pitiful life we are shown); at night, he falls in love with Julia, the only other young person in town. Nights are a time of hedonistic pleasure, since you can (for instance) eat all you want without getting fat.
---
| | |
| --- | --- |
| Albert Brooks | Daniel Miller |
| Meryl Streep | Julia |
| Michael Durrell | Agency Head |
| James Eckhouse | Jeep Owner |
| Rip Torn | Bob Diamond |
| Gary Beach | Car Salesman |
| Roger Behr | Comedian |
| Beth Black | Soap Opera Woman |
| Julie Cobb | Tram Guide |
| Peter Schuck | Stan |
| Time Winters | Porter |
| Sharlie Stuart | Susan |
| Clayton Norcross | Soap Opera Man |
| Jim McKrell | Game Show Moderator |
| Wil Albert | Game Show Contestant |
| James MacKrell | Game Show Moderator |
| Sage Allen | Game Show Contestant |
| Mary Pat Gleason | Waitress |
| Maxine Elliott Hicks | Elderly Woman on Tram (as Maxine Elliott) |
| Marilyn Rockafellow | Helen |
| Art Frankel | Arthur |
| Ernie Brown | Ernie |
| Lee Grant | Lena Foster |
| George Wallace | Daniel's Judge (as George D. Wallace) |
| Lillian Lehman | Daniel's Judge |
| Raffi Di Blasio | Daniel as a Boy |
| Kristopher Kent Hill | Bully |
| Eric Ehasz | Child in Schoolyard |
| Matthew Scharch | Daniel as an Infant |
| S. Scott Bullock | Daniel's Father |
| Carol Bivins | Daniel's Mother |
| Ethan Embry | Steve (as Ethan Randall) |
| Gary Ballard | Mr. Wadworth |
| Mary Mukogawa | Sushi Hostess |
| Toshio Shikami | Head Sushi Chef |
| Kagko Shikami | Sushi Chef |
| Samee Park | Sushi Chef |
| Tommy Inouye | Sushi Chef |
| Ken Thorley | Frank |
| Bob Braun | Talk Show Host |
| Jennifer Barlow | Talk Show Guest |
| Buck Henry | Dick Stanley |
| Joey Miyashima | Casio Tipster |
| Nurit Koppel | Daniel's Date |
| Susan Walters | Daniel's Wife |
| Sidney Chankin | Used Car Salesman |
| Greg Finley | Used Car Salesman |
| Leonard O. Turner | Sam |
| Clifford Einstein | Julia's Prosecutor (as Cliff Einstein) |
| Rachel Bard | Julia's Judge |
| Newell Alexander | Julia's Judge |
| Shirley MacLaine | Herself |
| Hal Landon Jr. | Man in Past Lives Pavilion |
| Ida Lee | Woman in Past Lives Pavilion |
| Noley Thornton | Victorian Girl |
| Glen Chin | Sumo Wrestler |
| James Ekim | Native |
| Clarke Coleman | Knight |
| Ron Colby | Majestic Doorman |
| David Purdham | Peter |
| James Paradise | Stage Manager |
| Jerry Prell | Banquet Manager |
| Arell Blanton | Fire Marshall |
| Shana Ballard | Julia's Daughter |
| Chris Macris | Julia's Son |
| Joseph Darrell | Maitre D' |
| James Manis | Eduardo |
| Alex Sheafe | Martín |
| Cathleen Chin | Ticket Counter Agent |
| Lisa Sears | Tram Port Attendant |
| Mark Dunlap | Tram Port Attendant |
| Vernon Roguen | Tram Port Attendant |
| Dennis Germain | Tram Driver |
| Allen Daviau | Cinematographer |
| Michael Gore | Composer |
| David Finfer | Editor |
| Ida Random | Production Designer |
| Richard Reynolds | Art Director |
| Deborah Lynn Scott | Custome Designer |
Genre: Comedy, Drama, Fantasy
Media: DVD
Sound: Dolby