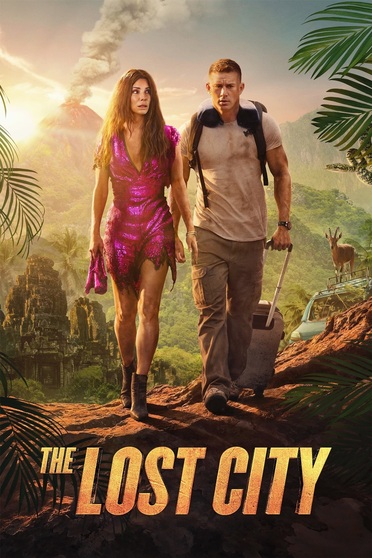 The adventure is real. The heroes are not.










Stars: Sandra Bullock, Channing Tatum, Daniel Radcliffe, Da'Vine Joy Randolph, Brad Pitt
Director: Aaron Nee, Adam Nee
Writer: Oren Uziel, Dana Fox, Adam Nee, Aaron Nee, Seth Gordon
Language: English
Studio: Paramount Pictures, 3dot productions, Exhibit A
Duration: 112
Rated: PG-13
A reclusive romance novelist on a book tour with her cover model gets swept up in a kidnapping attempt that lands them both in a cutthroat jungle adventure.
---
| | |
| --- | --- |
| Sandra Bullock | Loretta Sage |
| Channing Tatum | Alan |
| Daniel Radcliffe | Abigail Fairfax |
| Da'Vine Joy Randolph | Beth Hatten |
| Brad Pitt | Jack Trainer |
| Oscar Nuñez | Oscar |
| Patti Harrison | Allison |
| Bowen Yang | Ray the Moderator |
| Stephen Lang | Fantasy Villain |
| Joan Pringle | Nana |
| Héctor Aníbal | Rafi |
| Thomas Forbes-Johnson | Julian |
| Sli Lewis | Shades |
| Olga Bucarelli | Woman Singing in Village |
| Adam Nee | Officer Sawyer |
| Raymond Lee | Officer Gomez |
| Omar Patin | Limo Driver |
| Anthony Alvarez | Cigar Man |
| Ryan Orr | Biker |
| Alex Schoenauer | Biker |
| Edwin Polanco | Chef |
| Marcy Jarreau | Barb |
| Cynthia Guzmán | Audience Member |
| Carolina Rohana | Nerdy Teenage Girl |
| Jonathan Lev | Airline Employee |
| Katherine Montes | Dash Fan |
| Toussaint Merionne | Uniformed Man |
| Luinis Olaverria | Villager |
| Emerson Gonzalez | Local |
| Wilson Ureña | Consular Clerk |
| Roger Wasserman | Sound Person |
| Ryan Judd | PA Announcer |
| Zachary Steel | Meditation Leader |
| Clavel | Randy the Goat |
| Marcos Sánchez | Local policeman |
| Danny Radhames Vasquez Castillo | Henchman |
| Pinar Toprak | Composer |
| Jonathan Sela | Cinematographer |
| Craig Alpert | Editor |
| Miguel Fernández | Casting Director |
| Tricia Wood | Casting Director |
| Jim Bissell | Production Designer |
| María Fernanda Muñoz | Art Director |
| Wilhem Perez | Art Director |
| Jeno Delli Colli | Set Decorator |
| Karen Frick | Set Decorator |
| Marlene Stewart | Custome Designer |
| Jacqueline Almonte | assistant hair stylist |
| Ana María Andrickson | key makeup artist |
| Luis Miranda Andrickson | makeup assistant |
| Analyn Cruz | key hair stylist |
| Robin Fredriksz | makeup department head (as Robin Petra Fredriksz) |
| Selenia Hernandez | assistant hair stylist |
| Shantalle Hungría | Makeup Artist |
| Whitney James | makeup artist / makeup artist: Sandra Bullock |
| Taschi Lynell | hair department head |
| Stacey Panepinto | Makeup Artist |
| Carlucy R. Perrone | hair stylist |
| Ashunta Sheriff | Makeup Artist |
| Janine Thompson | hair stylist / hair stylist: Sandra Bullock |
| Adam Walls | key makeup artist |
| Luis Alfaro | Production Assistant |
| Rebecca Deelo | Production Supervisor |
| Maria Eliza Franco | assistant production manager |
| Ana Guerrero Guillen | production manager: second unit |
| Shari Hanson | executive in charge of production |
| Jonathan Hook | Unit Production Manager |
| Johnny Morales Jr. | Production Assistant |
| Cory C. Myler | Production Supervisor |
| Julissa Pina | production supervisor (as Julissapina) |
| Mila Ramirez | Production Manager |
| Lisa Rodgers | post-production supervisor |
| Daniela Arbaje | third assistant director: second unit |
| Nadeem Ashayer | first assistant director: second unit / key second assistant director: second unit |
| Steve Battaglia | first assistant director: second unit |
| Darrin Brown | first assistant director: second unit (as Darrin J. Brown) |
| Peter Lyons Collister | second unit director |
| Alejandro Durán | third assistant director: second unit |
| Charlie Endean | first assistant director |
| Jana Ivanova Grozeva | basecamp production assistant |
| Mike Gunther | second unit director |
| Roberto Hermann | second second assistant director (as Robert Hernan) / third assistant director: second unit |
| Gabriela Latorre | second floor assistant director: Dominican Republic |
| Devan Linforth | second assistant director |
| Megan Morrison | additional second second assistant director |
| Ana Lorraine Peguero | second assistant director: second unit (as Ana Peguero) |
| Amalia Ramírez Atiles | second second assistant director: Dominican Republic (as Amalia Ramirez) |
| Alessia Seravalle | key set production assistant |
| James Edward Tilden | second second assistant director (as Ed Tilden) |
| Ico Abreu | assistant art director |
| Rafael E. Abreu Adames | 3D model maker |
| Pavel Ademir | props coordinator |
| Nicole Hernández Alvarado | set decoration coordinator |
| Angie Hernández Arias | sculptor |
| Cristina Rodriguez Barcelo | assistant set decoration coordinator |
| Lizzie Bentley | concept artist |
| Maico Berroa | scenic painter |
| Maria Laura Blanco | assistant set decorator |
| Ivanna Bolonotto | Set Designer |
| Khalil Canaan | set decoration production assistant |
Genre: Action, Adventure, Comedy
Media: DVD
Sound: Dolby Atmos, CC, AD