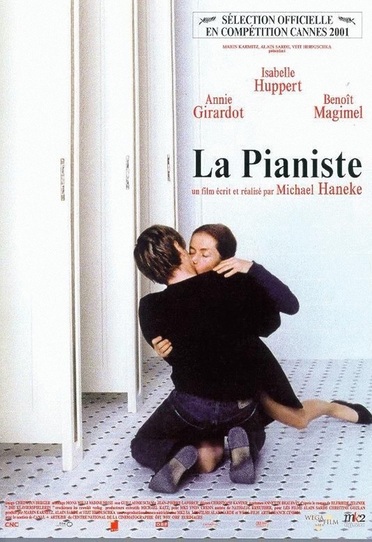 La pianiste
Perversion at its wicked best!










Stars: Isabelle Huppert, Annie Girardot, Benoît Magimel, Susanne Lothar, Udo Samel
Director: Michael Haneke
Writer: Michael Haneke, Elfriede Jelinek
Language: English
Studio: Arte
Duration: 131
Rated: R
DVD Release: November 2002
Erika Kohut is a pianist, teaching music. Schubert and Schumann are her forte, but she's not quite at concert level. She's approaching middle age, living with her mother who is domineering then submissive; Erika is a victim then combative. With her students she is severe. She visits a sex shop to watch DVDs; she walks a drive-in theater to stare at couples having sex. Walter is a self-assured student with some musical talent; he auditions for her class and is forthright in his attraction to her. She responds coldly then demands he let her lead. Next she changes the game with a letter, inviting him into her fantasies. How will he respond; how does sex have power over our other faculties?
---
| | |
| --- | --- |
| Isabelle Huppert | Erika Kohut |
| Annie Girardot | The mother |
| Benoît Magimel | Walter Klemmer |
| Susanne Lothar | Mrs. Schober |
| Udo Samel | Dr. George Blonskij |
| Anna Sigalevitch | Anna Schober |
| Cornelia Köndgen | Mme Gerda Blonskij |
| Thomas Weinhappel | Baritone |
| Georg Friedrich | Man in drive-in |
| Philipp Heiss | Naprawnik |
| William Mang | Teacher |
| Rudolf Melichar | Director |
| Michael Schottenberg | Teacher |
| Gabriele Schuchter | Margot |
| Dieter Berner | Singing teacher |
| Volker Waldegg | Teacher |
| Martina Resetarits | Teacher |
| Annemarie Schleinzer | Teacher |
| Karoline Zeisler | Teacher |
| Liliana Nelska | Secretary |
| Liliane Neiska | Secretary |
| Luz Leskowitz | Violinist |
| Viktor Teuflmayr | Pianist |
| Viviane Bartsch | Woman in drive-in (as Vivian Bartsch) |
| Florian Koban | Pupil |
| Thomas Auner | Haydn pianist |
| Noam Morgensztern | The first pupil (voice) |
| Andreas Donat | Chopin Pianist |
| Christian Berger | Cinematographer |
| Gerti Drassl | |
| Klaus Händl | |
| Francis Haines | Composer |
| Erika Kollmann-Till | (as Erika Kollmann) |
| Nadine Muse | Film Editor |
| Monika Willi | Film Editor |
| Nina Kripas | |
| Pascal Chauvin | Sound Department |
| Esther Pils | |
| Pascal Dedeye | Sound Department |
| Petra Reichel | |
| Othmar Eichinger | Sound Department |
| Marcus Zeuner | |
| Dominique Eyraud | Sound Department |
| Arbesi Sufi | |
| Eva Green | La petite amie de Walter |
| Hans-Christian Haas | Man Listening to Concert |
| Jean-Pierre Laforce | Sound Department |
| Guillaume Sciama | Sound Department |
| Lisa Olah | Sex shop girl (as Lisa Wölzl) |
| Christoph Kanter | Production Designer |
| Hans Wagner | Set Decorator |
| Vitus Wieser | Klemmer's Friend |
| Annette Beaufays | Custome Designer |
| Françoise Andrejka | Makeup Artist |
| Fabienne Bressan | hair stylist |
| Ellen Just | Makeup Artist |
| Thi-Loan Nguyen | key makeup artist |
| Michaela Oppl | special makeup effects artist |
| Waldemar Pokromski | special makeup effects artist |
| Katharina Biró | Assistant Director |
| Fritz Noltmann | Assistant Director |
| Hanus Polak Jr. | first assistant director |
| Gerhard Dhor | construction crew (as Gerhard Dohr) |
| Peter Dörflinger | construction crew |
| Peter Ecker | props |
| Katrin Huber | property master |
| Fritz Martan | construction coordinator |
| Hannes Salat | props |
| Peter Wenhardt | scenic artist |
Genre: Comedy
Media: DVD
Sound: Dolby Digital