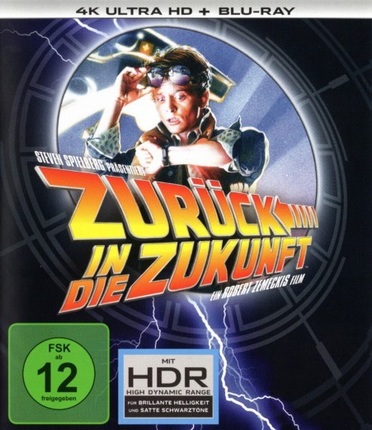 Zurück in die Zukunft 1
(1985)
Back to the Future
Marty McFly's having the time of his life. The only question is -- what time is it?










Stars: Michael J. Fox, Christopher Lloyd, Lea Thompson, Crispin Glover, Thomas F. Wilson
Director: Robert Zemeckis
Writer: Robert Zemeckis, Bob Gale
Language: English
Studio: Universal Pictures
Duration: 116
Rated: FSK 12
Marty McFly ist alles andere als happy, denn die Schule stinkt ihm und seine Eltern gehen ihm gehörig auf die Nerven. Sein einziger Trost ist der exzentrische Wissenschaftler Dr. Brown der einen DeLorean-Sportwagen in einem atomgetriebene Zeitmaschine umgebaut hat. Marty kann es kaum glauben. Selbst am Steuer wird er schnell eines Besseren belehrt. Ehe er sich versieht, wird er 30 Jahre in der Zeit zurückgeworfen. Man schreibt das Jahr 1955. Nachdem er die Zeitmaschine versteckt hat, läuft Marty durch die Straßen seiner Heimatstadt. Er trifft Lorraine Baines und George McFly - zwei Teenager, die eines Tages seine Eltern sein werden. Zu allem Übel verliebt sich seine zukünftige Mutter, die hübsche Lorraine, in ihn. Nun hat er eine ganze Menge Probleme zu lösen, bevor er wieder zurück in die Zukunft aufbrechen kann...
---
| | |
| --- | --- |
| Michael J. Fox | Marty McFly |
| Christopher Lloyd | Dr. Emmett Brown |
| Lea Thompson | Lorraine Baines |
| Crispin Glover | George McFly |
| Thomas F. Wilson | Biff Tannen |
| Claudia Wells | Jennifer Parker |
| Marc McClure | Dave McFly |
| Wendie Jo Sperber | Linda McFly |
| George DiCenzo | Sam Baines |
| Frances Lee McCain | Stella Baines |
| James Tolkan | Mr. Strickland |
| J.J. Cohen | Skinhead |
| Casey Siemaszko | 3-D |
| Billy Zane | Match |
| Harry Waters Jr. | Marvin Berry |
Genre: Adventure, Comedy, Sci Fi
Media: Blu-ray
Sound: 70 mm 6-Track