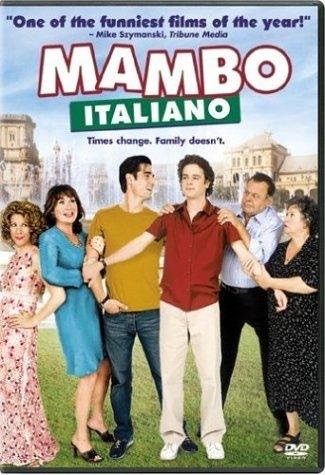 Mambo Italiano
Things change. Family doesn't.










Stars: Luke Kirby, Ginette Reno, Paul Sorvino, Mary Walsh, Peter Miller
Director: Emile Gaudreault
Writer: Steve Galluccio, Émile Gaudreault
Language: English
Studio: Cinémaginaire Inc.
Duration: 99
Rated: R
DVD Release: February 2004
Angelo Barberini is the oddball son of Italian immigrants Gino and Maria, who inadvertently ended up in Canada rather than the States. Angelo shocks his parents by moving out on his own without getting married, and shocks them further still when he reveals that he's gay. But his boyfriend, policeman Nino Paventi isn't as ready to come out of the closet -- especially not to his busybody mother, Lina.
---
| | |
| --- | --- |
| Luke Kirby | Angelo Barberini |
| Ginette Reno | Maria Barberini |
| Paul Sorvino | Gino Barberini |
| Mary Walsh | Lina Paventi |
| Peter Miller | Nino Paventi |
| Claudia Ferri | Anna Barberini |
| Sophie Lorain | Pina Lunetti |
| Tim Post | Peter |
| Tara Nicodemo | Yolanda / Woman in Airplane / Jolene |
| Pierrette Robitaille | Rosetta |
| Dino Tavarone | Giorgio |
| Mark Camacho | Johnny Christofaro |
| Michel Perron | Father Carmignani |
| Lou Vani | Marco |
| Diane Lavallée | Melanie |
| Ellen David | Alicia (gay-line) |
| Shaun Balbar | Raymond (gay-line) |
| Matt Holland | Steve (gay line) |
| Grace Bush-Vineberg | Young Anna (as Grace Bush Vineberg) |
| Matthew Gagnon | Gay Teen |
| Lisa Bronwyn Moore | Desperate Woman (as Lisa Bronwyn-Moore) |
| Michael Romano | Young Angelo |
| Stephanie Vecchio | Young Maria |
| Stephan Perreault | Young Gino |
| Mathieu Major-Langevin | Young Nino |
| Richard Jutras | Italian Psychiatrist #1 |
| Giovanna Currabba | Italian Psychiatrist #2 |
| Silvio Orvieto | Italian Psychiatrist #3 |
| Pierre Leblanc | Italian Psychiatrist #4 |
| France Arbour | Italian Psychiatrist #5 |
| Penny Mancuso | Angelo's Boss / Rosetta's Voice |
| Gino Riccardo Arcaro | Massimo |
| Paola Pagnotta | Massimo's Mother |
| Marcello Pagnotta | Massimo's Father |
| Paul Hopkins | Hunky Pilot |
| Gordon McCall | Inebriated Man |
| Ivana Bombardieri | TV Interviewer |
| Steve Galluccio | TV Angelo |
| Lidia Russon | TV Maria |
| Franco Montesano | TV Gino |
| Leni Parker | TV Anna |
| Suzanna Lenir | Southern Belle |
| Tony Tortorici | Pina's Father |
| Michael Daniel Murphy | Anna's Date |
| Jessica De Marco | Italian Woman (as Jessica Di Marco) |
| Victoria Sanchez | Beautiful Woman |
| Julie Tamiko Manning | Woman (help line) |
| Stéphane Archambault | Cute Man |
| Giovanna Carrubba | Italian Psychiatrist #2 |
| Frank Ferruccio | Waiter |
| Rodney Lloyd Anthony Kellman | Nightclub Bouncer |
| Fanny Labbe | Hotline operator |
| Jerry Sprio | Yolanda's Husband |
| Claudia Tiseo | Italian Woman #1 |
| Alan West | Boy with frisbee |
| FM Le Sieur | Composer |
| Serge Ladouceur | Cinematographer |
| Richard Comeau | Editor |
| Stefan Perrault | Young Gino |
| Daniel Murphy | Anna's Date |
| Laura Mitchell | Wife |
| James Berlingieri | Fabio |
| Johnny Griffin | Burglar |
| Gordon Masten | Beer-Bellied Man |
Genre: Comedy, Drama, Lgbt+, Romance
Media: DVD
Sound: Dolby Digital