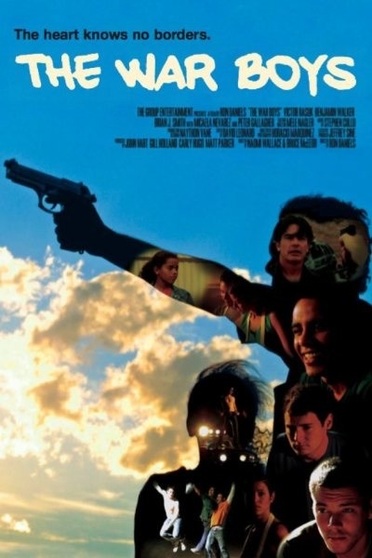 The heart knows no borders.










Stars: Victor Rasuk, Brian J. Smith, Benjamin Walker, Peter Gallagher, Micaela Nevárez
Director: Ron Daniels
Writer: Naomi Wallace, Bruce McLeod
Language: English
Studio: Group Entertainment, The
Duration: 93
Rated: Unrated
DVD Release: March 2010
Hoping for some quick cash, the buddy triumvirate of David (Benjamin Walker), George (Brian J. Smith), and Greg (Victor Rasuk), self named The War Boys, steal a tractor trailer owned by David's father (Peter Gallagher). The boys believe the trailer contains televisions, but as things go sour, the boys figure out that the cargo is more dangerous than just stolen televisions.
---
| | |
| --- | --- |
| Victor Rasuk | Greg |
| Brian J. Smith | George |
| Benjamin Walker | David |
| Peter Gallagher | Slater |
| Micaela Nevárez | Marta |
| Teresa Yenque | Maria |
| William Sterchi | Chas |
| Debrianna Mansini | Jen |
| Matthew Page | Agent Wayne (as Matthew D. Page) |
| Ross Kelly | Agent Burrows |
| Danielle Chavez | Agent Milanes |
| Greg Serano | Silvio |
| Shadwick Wilde | Josh (as Shadwick Dewilde) |
| Billy Lockwood | Nick |
| J. Michael Oliva | Tom (as J. Michael 'Yak' Oliva) |
| Maximiliano Martinez | Manuel |
| Cheyenne Serano | Cat |
| Stephen Cullo | Composer |
| Horacio Marquínez | Cinematographer |
| David Leonard | Editor |
| Maria Bethke | Rosa |
| Charles Thomas Doyle | Businessman |
| Pamela Finley | Mrs. Welch |
| J.D. Garfield | Scholar |
| Janet Smith | Employment Worker |
| Paul Zepeda | Waiter |
Genre: Crime, Drama, Lgbt+, Romance
Media: DVD
Sound: Dolby