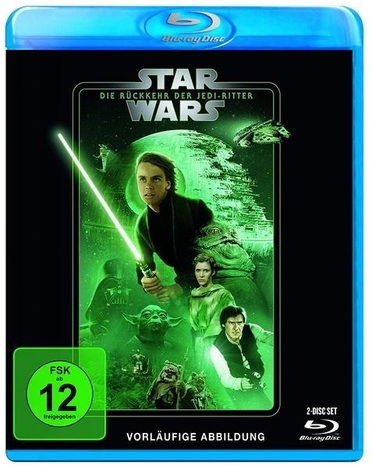 Star Wars: Episode VI : Die Rückkehr der Jedi-Ritter
(1983)
Star Wars: Episode VI - Return of the Jedi
The Empire Falls....










Stars: Mark Hamill, Harrison Ford, Carrie Fisher, Billy Dee Williams, Anthony Daniels
Director: Richard Marquand
Writer: Lawrence Kasdan, George Lucas
Language: English
Studio: Lucasfilm
Duration: 131
Rated: FSK 12
Wesen aus allen Ecken der Galaxis treffen die Vorbereitungen für die entscheidende Schlacht gegen die Streitkräfte des Imperiums. Ziel der Aktion ist die totale Zerstörung des zweiten Todessterns, dessen unvorstellbare Feuerkraft ganze Planeten vernichten kann.
Inzwischen ist Han Solo immer noch in der Wüstenfestung des mächtigsten und skrupellosesten Verbechers des Universums, Jabba the Hutt, gefangen. Luke Skywalker gelingt es schließlich zusammen mit seinen Gefährten Prinzessin Leia, Chewbacca und Lando Calrissian, sowie den beiden Robotern C3PO und R2D2 mit Han zu fliehen. Aber Luke steht die schwerste Prüfung noch bevor: Während auf dem Waldmond Endor und beim Todesstern die alles entscheidende Schlacht entbrennt, muss er sich seinem Erzfeind Darth Vader zu einem Zweikampf auf Leben und Tod stellen...
---
| | |
| --- | --- |
| Mark Hamill | Luke Skywalker |
| Harrison Ford | Han Solo |
| Carrie Fisher | Princess Leia |
| Billy Dee Williams | Lando Calrissian |
| Anthony Daniels | C-3PO |
| Peter Mayhew | Chewbacca |
| Sebastian Shaw | Anakin Skywalker |
| Ian McDiarmid | The Emperor |
| Frank Oz | Yoda |
| James Earl Jones | Darth Vader |
| David Prowse | Darth Vader |
| Alec Guinness | Ben 'Obi-Wan' Kenobi |
| Kenny Baker | R2-D2 |
| Michael Pennington | Moff Jerjerrod |
| Kenneth Colley | Admiral Piett |
Genre: Action, Adventure, Fantasy, Sci Fi
Media: Blu-ray