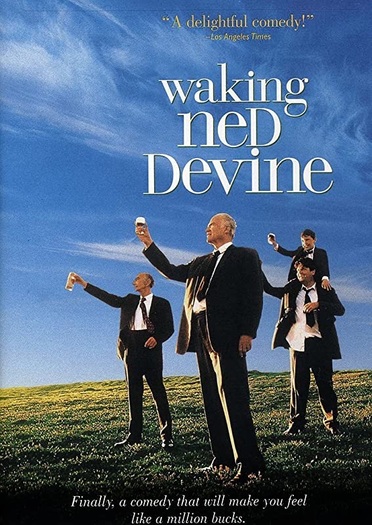 Waking Ned
How far would you go to win a fortune!










Stars: David Kelly, Susan Lynch, James Nesbitt
Director: Kirk Jones
Writer: Kirk Jones
Language: English
Studio: 20th Century Fox
Duration: 1
Rated: PG
DVD Release: June 1999
Waking Ned Devine invites you into the enchanting village of Tullymore, population 52 and shrinking. Inspired by a true story, this hilarious new comedy is about everyone's dream - to win the lottery.
Jackie O'Shea and Michael O'Sullivan are big believers in luck and dreams, who have long obsessed over the national lottery. It is with great excitement that they read in the local newspaper that someone in Tullymore possesses the winning ticket. After several false leads, they eventually discover the lucky soul: Ned Devine. Unfortunately for Ned, he's dead from the shock - with the ticket in his hand and a winning smile on his face. Jackie, appalled to think the winnings may go unclaimed, hatches a scheme that calls for impersonating the recently departed Ned. Now all he has to do is convince the village and the lottery representatives.
---
| | |
| --- | --- |
| Ian Bannen | Jackie O'Shea |
| David Kelly | Michael O'Sullivan |
| Fionnula Flanagan | Annie O'Shea |
| Susan Lynch | Maggie O'Toole |
| James Nesbitt | Pig Finn |
| Paul Vaughan | Narrator (voice) |
| Adrian Robinson | Lotto Observer |
| Maura O'Malley | Mrs. Kennedy |
| Robert Hickey | Maurice O'Toole |
| Paddy Ward | Brendy O'Toole |
| James Ryland | Dennis Fitzgerald |
| Fintan McKeown | Pat Mulligan |
| Eileen Dromey | Lizzy Quinn |
| Kitty Fitzgerald | Kitty |
| Dermot Kerrigan | Father Patrick |
| Jimmy Keogh | Ned Devine |
| Brendan Dempsey | Jim Kelly |
| Matthew Devitt | Tom Toomey |
| Rennie Campbell | Rennie |
| Eamonn Doyle | Dicey Riley |
| Raymond MacCormac | The Whistler |
| Larry Randall | Father Mulligan |
| Jim Ashford | Villager of Tullymore |
| Anne Bancroft | Villager of Tullymore |
| Lewis Charles Barham | Villager of Tullymore |
| Colin Bendall | Villager of Tullymore |
| Dodo Bickerdike | Villager of Tullymore |
| Joy Birnie | Villager of Tullymore |
| James Bishop | Villager of Tullymore |
| Peter Bradford | Villager of Tullymore |
| Steven Burke | Villager of Tullymore |
| Derick Bussey | Villager of Tullymore |
| Norman Cain | Villager of Tullymore |
| Margaret Cain | Villager of Tullymore |
| Peter Carroll | Villager of Tullymore |
| Barbara Clague | Villager of Tullymore |
| Pam Courtenay Smith | Villager of Tullymore |
| Edwina Crebbin | Villager of Tullymore |
| Jill Cruddace | Villager of Tullymore |
| Ted Cruddace | Villager of Tullymore |
| Heather Dawes | Villager of Tullymore |
| George Egee | Villager of Tullymore |
| Jill Foster | Villager of Tullymore |
| Susan Hidson | Villager of Tullymore |
| Margaret Horsfield | Villager of Tullymore |
| John Kaighin | Villager of Tullymore |
| Stanley Karran | Villager of Tullymore |
| Una King | Villager of Tullymore |
| Anne Lace | Villager of Tullymore |
| Shirley Lewney | Villager of Tullymore |
| Alix Morrey | Villager of Tullymore |
| Pat O'Donohue | Villager of Tullymore |
| Ged Pearce | Villager of Tullymore |
| Stella Pixton | Villager of Tullymore |
| Joyce Pullin | Villager of Tullymore |
| Charlie Read | Villager of Tullymore |
| Thomas Reeder | Villager of Tullymore |
| John Scott | Villager of Tullymore |
| Jannie Smith | Villager of Tullymore |
| Barbara Stott | Villager of Tullymore |
| Molly Stott-Murray | Villager of Tullymore |
| Muzci Taylor | Villager of Tullymore |
| Johnnie Tweed | Villager of Tullymore |
| William Quigley | Villager of Tullymore |
| Brian Walker | Villager of Tullymore |
| Shaun Davey | Composer |
| Henry Braham | Cinematographer |
| Alan Strachan | Editor |
Genre: Comedy
Media: DVD
Sound: Dolby Digital 2.0