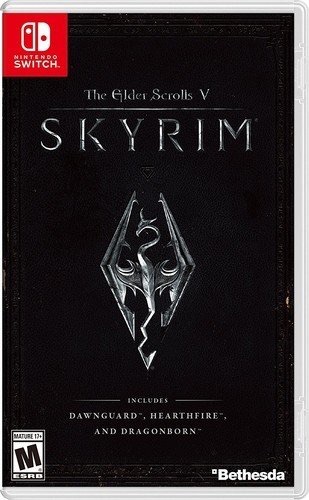 The Elder Scrolls V: Skyrim
(2017)










Developer: Bethesda Zenimax
Platform: Nintendo Switch
Genre: Nintendo Switch
Publisher: Nintendo
Series: The Elder Scrolls
Rated: Mature
Winner of more than 200 Game of the Year awards, The Elder Scrolls V: Skyrim, the open-world masterpiece where you can be anyone and do anything, now allows you to go anywhere – at home or on the go.
Skyrim® brings to life a complete virtual world for you to explore any way you choose, including all-new features like motion controls, plus outfits and gear from compatible The Legend of Zelda™ amiibo. Take down enemies with the Master Sword, protect yourself with the Hylian Shield or look heroic in the Champion's Tunic.
The legendary freedom of choice and adventure of Skyrim is realized like never before. Dragons, long lost to the passages of the Elder Scrolls, have returned and the future of Skyrim hangs in the balance. As Dragonborn, the prophesized hero born with the power of The Voice, you are the only one who can stand amongst them.
---
Features: * Epic Fantasy Reborn - Skyrim reimagines and revolutionizes the open-world fantasy epic, bringing to life a complete virtual world open for you to explore any way you choose. * Live Another Life, in Another World - Play any type of character you can imagine, and do whatever you want; the legendary freedom of choice, storytelling, and adventure of The Elder Scrolls is realized like never before. * You are What You Play - Choose from hundreds of weapons, spells, and abilities. The new character system allows you to play any way you want and define yourself through your actions. * Battle Dragons - Battle ancient dragons like you've never seen. As Dragonborn, learn their secrets and harness their power for yourself.