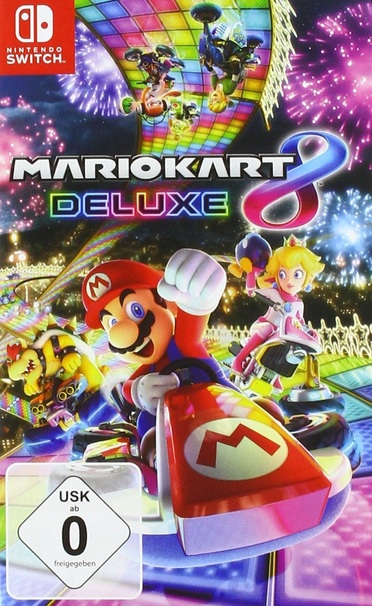 Mario Kart 8 Deluxe
(2017)










Developer: Nintendo EAD
Platform: Nintendo Switch
Genre: Driving, Racing
Publisher: Nintendo of America Inc.
Series: Mario Kart
Rated: 3
This enhanced port of Mario Kart 8 includes the base game, all patches from the Wii U version, and all content from the following DLC packages:
Mario Kart 8: Mercedes-Benz × Mario Kart 8
Mario Kart 8: The Legend of Zelda × Mario Kart 8
Mario Kart 8: Animal Crossing × Mario Kart 8
It also features the following changes and additions, which are completely unique to this version of the game:
Inkling Boy, Inkling Girl, King Boo, Dry Bones, Bowser Jr., and Gold Mario as playable characters
Koopa Clown, Inkstriker, and Splat Buggy as playable vehicles
Feather and Boo items, the former of which is only available in Battle Mode
The ability to carry two items at once
Battle Mode has been revamped and now uses its own exclusive courses
200cc is now playable in Time Trials
Various minor gameplay and graphical improvements and adjustments
---
Features: Fantasische Mario-Kart-Action auf 48 Strecken • Neue Fahrer geben sich die Ehre • Neue Strecken, bewährten Favoriten und brandneuen Regeln • Anfänger ans Steuer! Die Schlau-Steuerung hält euch stets in der Spur! • Es wird im Mehrspielermodus eine Version der Software pro Spieler benötigt! • Spiel in Deutsch (+Englisch, Französisch, Holländisch, Russisch, Polnisch, Italienisch, Japanisch, Spanisch) • Das Online-Spiel erfordert eine kostenpflichtige Mitgliedschaft bei Nintendo Switch Online.