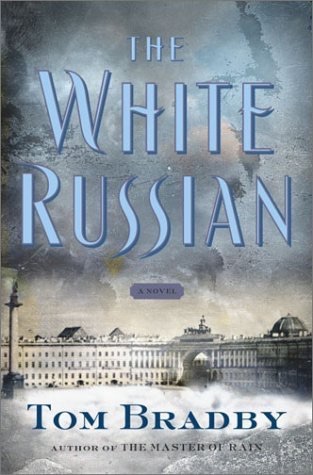 Author: Tom Bradby
Publisher: Doubleday
Language: English
Pages: 464
ISBN: 9780385508407
Genre: Literature & Fiction
Format: Hardcover
With Russia on the brink of a populist revolution, the least important thing to most residents of St. Petersburg in January 1917 might have been who stabbed to death an unidentified couple on the frozen Neva River. Yet solving that mystery is pretty much all that keeps Alexander "Sandro" Ruzsky, chief investigator of the city police, from despairing over his medley of personal torments, in Tom Bradby's doleful yet evocative novel, "The White Russian".
It turns out that the dead woman on the ice used to work as a nanny to Tsar Nicholas II's children, until she was dismissed for stealing unspecified property. Her male companion, a Chicago criminal and labor agitator, was knifed 17 times and had in his coat pocket a roll of banknotes marked with tiny ink dots. A code of some sort? If so, who was he communicating with secretly, and to what end? Although Ruzsky, the black sheep son of an aristocratic family, just returned from a three-year Siberian banishment, finds his investigation hampered by the tsar's secret police, he slowly unpeels the layers of a conspiracy that involves not merely homicide, but also avarice, politics, and long-sought vengeance. The stability of Russia's monarchy may depend on Ruzsky's success in this case, as may the investigator's hesitant relationship with a star ballerina, whose cloaked past makes her a far more intriguing, and more deadly, companion than Ruzsky realizes.
While "The White Russian" introduces readers to St. Petersburg's exotic and economic extremes--tenements of Dostoevskian squalidness, gilded ballet theaters full of garrulous royalty--it is a rather less ambitiously atmospheric story than Bradby's previous novel, 2002's "The Master of Rain". Yet it boasts a similarly tumbling pace, emotionally torn and credible characters (including a "neurotic and hysterical" Tsarina Alexandra), and twists and dubious allegiances enough to leave readers wondering at Ruzsky's solution until the closing pages. At once a chilling crime yarn and a cautionary tale about the sometimes painful exigencies of love, "The White Russian" is a literary cocktail with a decided kick. "--J. Kingston Pierce"