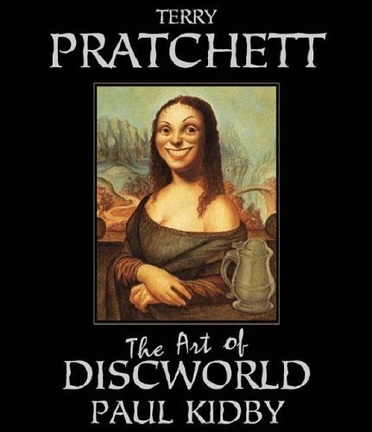 The Art of the Discworld
(2004)










Author: Terry Pratchett
Illustrator: Paul Kidby
Publisher: Gollancz
Language: English
Pages: 112
Genre: Fantasy
Format: Hardcover
I thought of taking a star off because in case my superlatives were ill-judged but, to be honest, I do think it deserves all five stars. If you enjoy Kidby's illustrations of the Discworld universe, you'll find a sparkling selection within this book.
Several examples of his cover art are to be found, some with precursor images for illustrative purposes, and one example, the "Rincewind Scream" cover for The Last Hero, is shown here in its full glory for the first time ever, having been cut down in the graphic novel it was originally intended for.
In addition to the illustrations of characters, groups and scenes, Terry Pratchett supplies a commentary relating to each section of the book, which lets us further into his world and allows us to understand the relationship between the Author, his world and the illustrator. Kidby also comments on selected pieces (his text is italicised), as well as both contributors providing their own 'forewards' to the text.
Where the Discworld Portfolio, Josh Kirby's earlier work, is of the style of an art-catalogue (or, as it happens to be, a portfolio) this book is more modern and accessible in its outlook and well represents both the talents of the artist observing the Discworld and Discworld itself.
I would definitely recommend this publication to anyone who enjoys the Discworld universe. It goes well on the shelving with the other larger-cover books (such as The Last Hero, the GURPS publications and assorted graphic novels) and the eye-candy within will be frequently browsed.