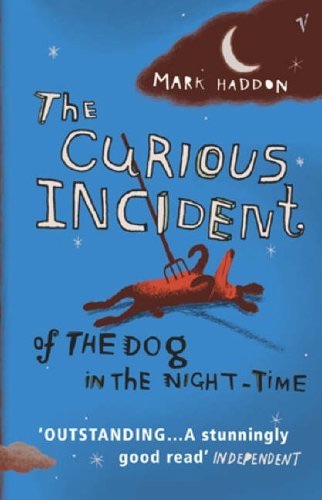 The Curious Incident of the Dog in the Night-time: Adult Edition
(2004)










Author: Mark Haddon
Publisher: Vintage
Language: English
Pages: 224
Genre: Fiction
Format: Paperback
The title "The Curious Incident of the Dog in the Night-time" (or "the curious incident of the dog in the night-time" as it appears within the book) is an appropriate one for Mark Haddon's ingenious novel both because of its reference to that most obsessive and fact-obsessed of detectives, Sherlock Holmes, and because its lower-case letters indicate something important about its narrator.
Christopher is an intelligent youth who lives in the functional hinterland of autism--every day is an investigation for him because of all the aspects of human life that he does not quite get. When the dog next door is killed with a garden fork, Christopher becomes quietly persistent in his desire to find out what has happened and tugs away at the world around him until a lot of secrets unravel messily.
Haddon makes an intelligent stab at how it feels to, for example, not know how to read the faces of the people around you, to be perpetually spooked by certain colours and certain levels of noise, to hate being touched to the point of violent reaction. Life is difficult for the difficult and prickly Christopher in ways that he only partly understands; this avoids most of the obvious pitfalls of novels about disability because it demands that we respect--perhaps admire--him rather than pity him. --"Roz Kaveney"