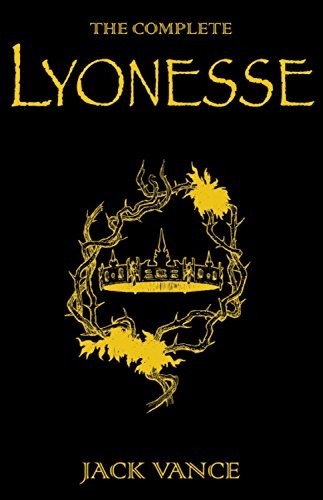 Author: Jack Vance
Publisher: Gollancz
Language: English
Pages: 1040
Genre: Fantasy, Mythic Fiction
Format: Hardcover
The Elder Isles - an ancient land where chivalry and the realm of fairie exist side by side. A land of mystery, strange beauty, high adventure and arcane magic. Kings are at war, opposing magicians devise ever more cunning stratagems. It is a land where princesses and changelings both can become embroiled in political rivalries and the quest for the grail.
Suldrun's Garden (Lyonesse #1)
by Jack Vance
3.93 of 5 stars 3.93 · rating details · 2,844 ratings · 161 reviews
The Elder Isles, located in what is now the Bay of Biscay off the the coast of Old Gaul, are made up of ten contending kingdoms, all vying with each other for control. At the centre of much of the intrigue is Casmir, the ruthless and ambitious king of Lyonesse. His beautiful but otherworldly daughter, Suldrun, is part of his plans. He intends to cement an alliance or two by marrying her well. But Suldrun is as determined as he and defies him. Casmir coldly confines her to the overgrown garden that she loves to frequent, and it is here that meets her love and her tragedy unfolds. Political intrigue, magic, war, adventure and romance are interwoven in a rich and sweeping tale set in a brilliantly realized fabled land.
The Green Pearl (Lyonesse #2)
by Jack Vance
4.15 of 5 stars 4.15 · rating details · 1,398 ratings · 56 reviews
When magic ruled and kings were strong...
South of Eire and west of Gaul was the land of the Elder Isles, a mystical place of fairy shees, valiant knights, and the powerful magic of sorcerers living and forgotten.
Now, as Aillas of Troicinet and Casimir of Lyonesse parry and feint in a duel of wits, the mysterious aura of the Green Pearl enters their souls. Its menas are subtle, but its effects are great, and as the Kings of Elder ready their swords, even the worlds of the immortals tremble...
Madouc (Lyonesse #3)
by Jack Vance
4.13 of 5 stars 4.13 · rating details · 1,301 ratings · 44 reviews
The World Fantasy Award-winning third volume of the Lyonesse trilogy brings attention to the faerie changeling Madouc. Where princess Suldrun once meekly endured the proprieties of Castle Haidion, Madouc defends herself with rotten fruit. Vexed, King Casmir arranges a contest to marry her off, but Madouc has other ideas, and enlists the stableboy "Sir Pom-pom" on an impromptu quest to find her father. During their travels, they encounter swindlers, faeries, trolls, ogres, a knight in search of his youth, and a relatively pedestrian item known as the Holy Grail. As the sorcerers Shimrod and Murgen investigate portents of cataclysm in the world of magic, Casmir plans a murder that will bring all the lands under his iron rule; however, his ambitions will be complicated by one small but important oversight--he's failed to allow for Madouc! (less)
Jack Vance's Complete Lyonesse is a perfect addition to the series, contains Suldrun's Garden, The Green Pearl, and Madouc (the novel for which Vance won the World Fantasy Award).
The Gollancz Black Books have proved to be an immensely successful formula for getting well loved stories into the hands of people who also love well made books. (less)