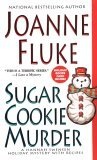 Sugar Cookie Murder: A Hannah Swensen Holiday Mystery With Recipes
(2005)










Author: Joanne Fluke
Publisher: Kensington
Pages: 380
ISBN: 9780758206824
Genre: Mystery & Thrillers
Format: Audiobook
I've enjoyed Fluke's other baking mysteries but this one wasn't much of a mystery--but may be a good cookbook, I've not tried any of the 174 pages of recipes yet.
Fluke fell into the most hated of all mystery novelists' sins--she didn't give you the clues in advance, just let them "pop up" when it was time for the exposition and announcement of the killer. I've read 5 of her other mysteries so I was pretty well versed in the characters that are standard in her novels. However, if you pick this up as a first read, you'll have no idea about the dynamics of the family or the town (or the love triangle which, by the way, is getting pretty old--Hannah just needs to make up her mind and go with it) because they are given no depth at all in this book but are nothing more than one-dimensional cut-outs used to decorate what is obviously a holiday cookbook.
Don't waste your time or money on this one.