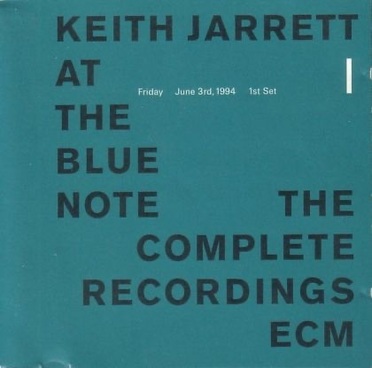 Keith Jarrett at the Blue Note: The Complete Recordings
(1994)
Keith Jarrett










Label: Ecm Records
Duration: 7:01:58
Genre: Jazz
If you like Keith Jarrett's music and especially his work with the Standards Trio, you'll love this box set consisting of 6 albums recorded on three consecutive nights in the summer of 1994 at At The Blue Note in New York. The albums are beautifully recorded, and in my opinion the sound is even better than their studio recordings. The drums are very much in front in the soundscape, so it's easy to hear all of Jack DeJohnette's creative playing.
Another reviewer for this box set said that "There's also unparalleled "attitude," "ego," "self-belief," and a canny sense of self-promotion." I can see what he means, but if that makes for better music, why does it matter? I think that Keith's attitude, ego, self-belief and so on contributes to the music in a way that the music is more recognized in the improvisation process. What I mean by that is also what Keith himself writes in the linear notes: "[The music] must be let in, recognized, and revealed to the listener, the first of which is the musician him/herself. This recognition is the most misunderstood part of the process (even by musicians). It is a discrimination against mechanical pattern, for content, against habit, for surprise [...]. It is like an attempt, over and over again to reveal the heart of things." Though this recognition part of the improvisation process is practised among all other great jazz musicians, I think Keith has his skill fully developed. And if you're going to hear these albums or some of them, you have to be open, because if you're not, every ballad is just going to sound like it always have been; if you're open, on the other hand, you can hear how the trio constantly tries to "reveal the heart of things."
What I favour before the other albums by the Standards Trio is the variance of the playing. In spite of the fact that these 6 albums were recorded in a weekend, the trio never bores you. It's incredible how creative and imaginative they can be.
---
| Track | Duration |
| --- | --- |
| In Your Own Sweet Way | 17:59 |
| How Long Has This Been Going On | 09:09 |
| While We're Young | 11:01 |
| Partners | 08:56 |
| No Lonely Nights | 07:16 |
| Now's The Time | 08:30 |
| Lament | 07:09 |
| I'm Old Fashioned | 10:36 |
| Everything Happens To Me | 11:49 |
| If I Were A Bell | 11:26 |
| In The Wee Small Hours Of The Morning | 08:45 |
| Oleo | 08:03 |
| Alone Together | 11:20 |
| Skylark | 05:36 |
| Things Ain't What They Used To Be | 07:35 |
| Autumn Leaves | 26:34 |
| Days Of Wine And Roses | 11:30 |
| Bop-Be | 06:18 |
| You Don't Know What Love Is/Muezzin | |
| When I Fall In Love | 05:42 |
| How Deep Is The Ocean | 11:25 |
| Close Your Eyes | 09:27 |
| Imagination | 08:44 |
| I'll Close My Eyes | 10:11 |
| I Fall In Love Too Easily/The Fire Within | |
| On Green Dolphin Street | |
| My Romance | 09:40 |
| Don't Ever Leave Me | 05:08 |
| You'd Be So Nice To Come Home To | 06:58 |
| La Valse Bleue | 07:03 |
| Straight, No Chaser | 06:13 |
| Time After Time | 12:36 |
| For Heaven's Sake | 11:02 |
| Desert Sun | 28:32 |
| How About You? | 07:11 |
Producer: Manfred Eicher
UPC: 731452763822