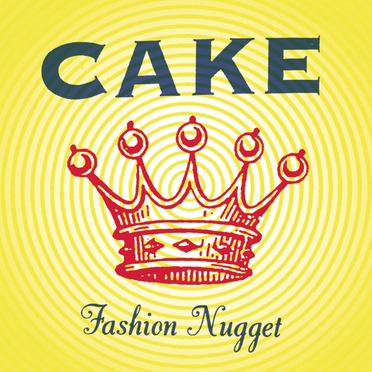 Cake










Label: Sony Music Canada Inc.
Duration: 48:15
Genre: Pop, Alternative
Sounding like a suburban, melodic white-funk-injected version of King Missile's performance art/standup comedy, "The Distance" became a novelty hit in the fall of 1996, sending Cake's second album, Fashion Nugget, to platinum status. Certainly, "The Distance" was the only reason Fashion Nugget went platinum, because the remainder of the album is too collegiate and arcane for mainstream music tastes. It isn't because it's obscure or intellectual -- it's because the band is smirking. An "ironic" cover of Gloria Gaynor's "I Will Survive" is the key to the album, sending the signal that Cake consider themselves above everyone else, and nothing is too insignificant to make fun of. And that wouldn't necessarily have been a problem if they had the wit or musical skills that would make their music either funny or listenable. Instead, they wallow in sophomoric jokes that rely on self-consciously elaborate wordplay. Occasionally, their blend of collegiate musical styles -- funk, hip-hop, alternative rock -- makes the music easy to digest in small doses, such as "The Distance," but it isn't varied enough to prevent the album from becoming tedious when played straight through.
by Stephen Thomas Erlewine
allmusic.com
---
| Track | Duration |
| --- | --- |
| Frank Sinatra | 4:01 |
| The Distance | 3:00 |
| Friend Is A Four Letter Word | 3:22 |
| Open Book | 3:44 |
| Daria | 3:44 |
| Race Car Ya-Yas | 1:21 |
| I will Survive | |
| Stickshifts And Safetybelts | 2:09 |
| Perhaps, Perhaps, Perhaps | 2:24 |
| It's Coming Down | 3:44 |
| Nugget | 3:58 |
| She'll Come Back To Me | 2:24 |
| Italian Leather Sofa | 5:52 |
| Sad Songs And Waltzes | 3:15 |
Original Release: 1996-01-01
Composer: Greg Brown, Victor Damiani, Joe Davis, Vince DiFiore, Osvaldo Farrés, Dino Fekaris, John McCrea, Willie Nelson, Freddie Perren, Todd Roper
Arranged By: Greg Brown, Victor Damiani, Vince DiFiore, John McCrea, Todd Roper
Producer: Cake
UPC: 614223286723, 731453286726