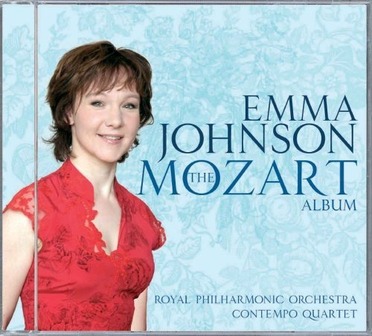 Emma Johnson










Label: Universal Classics
Genre: Classical
This is a difficult one. While Mozartx27;s clarinet concerto and quintet are probably considered to be part of the main classical repertoire, I suspect that they would not figure too highly on anyonex27;s list of favourites, save perhaps for the second movement Adagio of the concerto, which is a serenely lyrical piece of music ideal for the quieter moments of the day. For most of us the rest is by turns rather too melancholy or too technically brilliant - they were, after all, written as virtuoso pieces for his friend Anton Stadler, and for his "basset-clarinet", a now obsolete variant which went four semitones lower than the standard instrument.
Emma Johnson originally recorded both pieces in 1985, shortly after winning the BBC Young Musician of the Year title, in the modern arrangement for standard clarinet. For this her second CD for Universal she has revisited them, reconstructed the original music and had a new basset-clarinet made. When it plumbs the depths of its range it almost growls, and certainly gives a darker edge to the music. Emma plays like the virtuoso she has been these past 20-odd years - sliding up, down and around with ease, technically brilliant, brisk and breezy in pace and tone, even in the quieter moments - they could have been written for her.
The main pieces are followed by three little lollipops or encores - her own adaptations for clarinet and orchestra of favourite bits of Mozartx27;s operas and the Ave verum corpus, and these sound perfectly fine, if a little out of context.
My only quibble is with the pop-style studio-sound production that has her very upfront and to the fore in the mix, which makes it sound as if she was recorded separately from her orchestral or string quartet backing rather than with them. In fact she is so closely miked that you can hear her breathe. There is therefore no sense of the music being performed in concert, no ambience or atmosphere (I realise that my impression here is coloured by the fact that my previous copy of the concerto was the 1960 recording by Jack Brymer, also with the Royal Philharmonic, which would almost certainly have been recorded as live, and sounds it.)
That reservation aside, as an example of expert playing and a demonstration of the versatility and huge dynamic range of the clarinet, this is a fine CD album.
---
Track
Artist
2. Adagio
3. Allegro
1. Allegro
2. Larghetto
3. Minuet & Trio
4. Allegretto con variazioni
Papageno's Aria
Voi che sapete (arr. Johnson/West)
Ave verum (arr. Johnson/West)
Original Release: 2005-09-12
Composer: Wolfgang Amadeus Mozart
Producer: Royal Philharmonic Orchestra
UPC: 602498735718