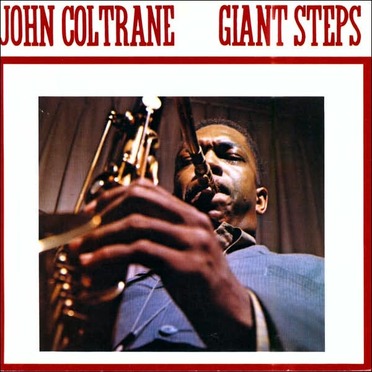 John Coltrane










Label: Atlantic / Wea
Duration: 1:02:39
Genre: Jazz
Giant Steps è un album del sassofonista jazz John Coltrane pubblicato nel 1960 dalla Atlantic Records.
Giant Steps fu il primo grande successo personale di John Coltrane ed è ancor'oggi considerato uno dei suoi capolavori oltreché uno dei dischi più importanti della storia del jazz.
Il disco fu, per diversi motivi, una nuova esperienza per Coltrane. Fu il suo primo album per la Atlantic Records e il primo interamente costituito da proprie composizioni. In questo disco, inoltre, Coltrane portò a nuovi traguardi lo stile improvvisativo che fu definito sheets of sound, "fogli di suono" (si ascolti l'assolo su Countdown per un esempio del suo stile di improvvisazione armonica, ricco di arpeggi).
Questo album rappresenta anche la definitiva uscita di Coltrane dallo stile hard bop e la sua entrata, come esecutore e compositore, nel modal jazz.
Released in January 1960, John Coltrane's first album devoted entirely to his own compositions confirmed his towering command of tenor saxophone and his emerging power as a composer. Apprenticeships with Dizzy, Miles, and Monk had helped focus his furious, expansive solos, and his stamina and underlying sense of harmonic adventure brought Coltrane, at 33, to a new cusp--the polytonal "sheets of sound" that distinguished his marathon solos were offset by interludes of subtle, concise lyricism, embodied here in the tender "Naima." That classic ballad is a calm refuge from the ecstatic, high-speed runs that spark the set's up-tempo climaxes, which begin with the opening title song, itself a cornerstone of modern jazz composition. This exemplary reissue benefits from eight alternate takes of the original album's seven stellar tracks, excellent remastering of the original tapes, and an expanded annotation. "--Sam Sutherland"
---
| Track | Duration |
| --- | --- |
| Spiral | 5:56 |
| Syeeda's Song Flute | 7:00 |
| Mr. P.C. | 6:57 |
| Giant Steps | 4:43 |
| Naima | 4:21 |
| Cousin Mary | 5:45 |
| Countdown | 2:21 |
| Syeeda's Song Flute (*) (Alternate Take) | 7:02 |
Original Release: 1959-04-01
Composer: John Coltrane
Producer: Nesuhi Ertegun
UPC: 75678133725