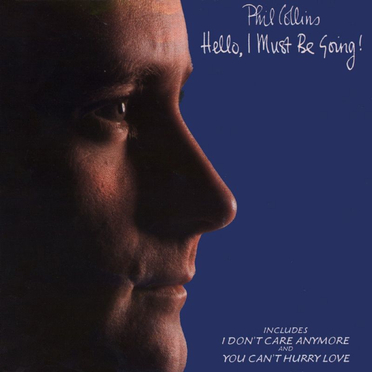 Hello, I Must Be Going!
(1982)
Phil Collins










Label: WEA International Inc.
Duration: 45:46
Genre: Singer-Songwriter
Arranged By [Horns] - Tom-Tom 84*
Engineer [Assistant] - Howard (Double Plug) Gray*
Engineer [Strings] - Mike Ross (2)
Horns - Phenix Horns, The
Leader [Orchestra] - Gavyn Wright
Mastered By - Ian Cooper
Mixed By [Extra Hands On The Orchestral Tracks], Conductor - Martyn Ford
Orchestra - Mountain Fjord Orchestra, The
Photography [Inside Pics] - Hugh Padgham , Jill Tarelman , Marjaret Maxwell
Photography [Main Cover] - Trevor Key
Producer - Phil Collins
Producer [Assistant], Engineer - Hugh Padgham
Saxophone [Tenor, Alto] - Don Myrick
Trombone - Louis Satterfield
Trumpet - Michael Harris , Rahmlee Michael Davis
Written-By - Collins* (tracks: A1 to A4, B1 to B5)
Notes: Recorded at Old Croft (Los Angeles, CA, USA) on 1" 8 track, overdubbed at The Farm and Townhouse (both Los Angeles, CA, USA) in May-June 1982.
Strings recorded at CBS (New York, NY, USA).
Engineer - Hugh Padgham
Producer - Phil Collins
1 I Don't Care Anymore (5:00)
Guitar - Daryl Stuermer
Keyboards, Drums, Vocals, Bass [Pedals] - Phil*
2 I Cannot Believe It's True (5:14)
Arranged By [Horns] - Tom Tom 99
Bass - John Giblin
Choir - Don* , Louis* , Peter Newton , Phil* , Rham*
Guitar - Daryl*
Keyboards, Drums, Vocals, Percussion - Phil*
Performer - Phenix Horns*
Performer [Choir] - Phenix Choir
Saxophone [Alto] - Don Myrick
Trombone - Louis*
Trumpet - Michael* , Rhamlee*
3 Like China (5:05)
Bass - John*
Guitar - Daryl*
Keyboards, Drums, Vocals, Percussion [Claps] - Phil*
4 Do You Know, Do You Care? (4:57)
Guitar - Daryl*
Keyboards, Drums, Vocals, Other [Pedals], Trumpet - Phil*
5 You Can't Hurry Love (2:50)
Arranged By [Strings] - Martyn (Narrie) Ford*
Bass - John*
Conductor [Strings] - Martyn Ford
Drums, Vocals, Tambourine - Phil*
Guitar - Daryl*
Leader [Strings] - Gavyn Wright
Piano, Glockenspiel, Vibraphone - Peter (Scene) Robinson*
Strings - Mountain Fjord Orchestra, The
6 It Don't Matter To Me (4:12)
Arranged By [Horns] - Tom Tom 99
Bass - Mo Foster
Guitar - Daryl*
Keyboards, Drums, Vocals, Percussion - Phil*
Performer - Phenix Horns*
Saxophone - Don*
Trombone - Louis*
Trumpet - Michael* , Rhamlee*
7 Thru These Walls (5:02)
Bass - Mo*
Guitar - Daryl*
Keyboards, Drums, Vocals, Marimba - Phil*
8 Don't Let Him Steal Your Heart Away (4:43)
Arranged By [Strings] - Martyn (Kickers) Ford*
Bass - John*
Conductor [Strings] - Martyn Ford
Guitar - Daryl*
Leader [Strings] - Gavyn Wright
Piano, Drums, Vocals - Phil*
Strings - Mountain Fjord Orchestra, The
9 The West Side (4:59)
Arranged By [Horns] - Tom Tom 99
Guitar - Daryl*
Keyboards, Drums, Percussion, Vocals, Other [Pedals] - Phil*
Performer - Phenix Horns*
Saxophone - Don*
Saxophone [Alto] - Don*
Trombone - Louis*
Trumpet - Michael* , Rhamlee*
10 Why Can't It Wait 'Til Morning (3:01)
Arranged By [Strings] - Martyn (Doris) Ford*
Conductor [Strings] - Martyn Ford
Leader [Strings] - Gavyn Wright
Piano, Vocals - Phil*
Strings - Mountain Fjord Orchestra, The
---
| Track | Duration |
| --- | --- |
| I Don't Care Anymore | 5:04 |
| I Cannot Believe It's True | 5:18 |
| Like China | 5:10 |
| Do You Know, Do You Care | 5:02 |
| You Can't Hurry Love | 2:55 |
| It Don't Matter To Me | 4:18 |
| Thru These Walls | 5:05 |
| Dont' Let Him Steal Your Heart Away | 4:47 |
| The West Side | 5:03 |
| Why Can't It Wait Til Morning | 3:04 |
Original Release: 1982-01-01
Arranged By: Tom Tom 84
Producer: Hugh Padgham, Phil Collins
UPC: 22925494320, 75678003547