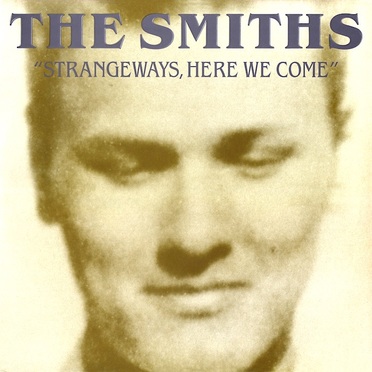 Strangeways, Here We Come
(1990)
The Smiths










Label: Warner Brothers
Duration: 36:10
Genre: Alternative & Punk
I still remember the day I first heard the Smiths. It was 1987, I was a 12 year old kid and I heard Girlfriend in a Coma on a local radio station. As soon as I heard the song I fell in love with the Smiths and my interest in music and pop culture began. Girlfriend in a Coma was one of The Smiths' more insubstanstial offerings but it is a pop classic nevertheless. Now, as a world weary 28 year old, the only thing I have in common with the 12 year old kid I used to be is my passionate love of the Smiths and of this album.
For me this is my favourite Smiths album. I know that The Queen is Dead is the rock critics' favourite but my heart belongs to Strangeways. Morrissey's voice is at its best here and ranges from grunts, yelps and moans to sweet crooning. His lyrics are playful, sick, witty and heartbreakingly moving. Standout tracks are the sinister Death of a Disco Dancer, the aforementioned Girlfriend in a Coma (Morrissey's answer to "Leader of the Pack"), Paint a Vulgar Picture and the sublime I Won't Share You. Morrissey's lyrical and vocal genius is equalled by Marr, Joyce and Rourke's music. I still listen to the album regularly and in 15 years of record buying I have yet to find anything to better it and few to equal it.
If you have any interest in pop or guitar music you simply owe it to yourself to buy this album, it is a true, shimmering, wonderful work of art and your life will be immeasureably enriched by experiencing it!
---
| Track | Duration |
| --- | --- |
| Rush and a Push and the Land Is Ours | 3:01 |
| I Started Something I Couldn't Finish | 3:47 |
| Death of a Disco Dancer | 5:26 |
| Girlfriend in a Coma | 2:02 |
| Stop Me If You Think You've Heard This One Before | 3:33 |
| Last Night I Dreamt That Somebody Loved Me | 5:06 |
| Unhappy Birthday | 2:45 |
| Paint a Vulgar Picture | 5:35 |
| Death at One's Elbow | 2:01 |
| I Won't Share You | 2:50 |
Original Release: 1987-01-01
Composer: Morrissey/Marr
Producer: Johnny Marr, Morrissey, Stephen Street
UPC: 75992564922, 745099189921, 5014644301060, 4943674066230