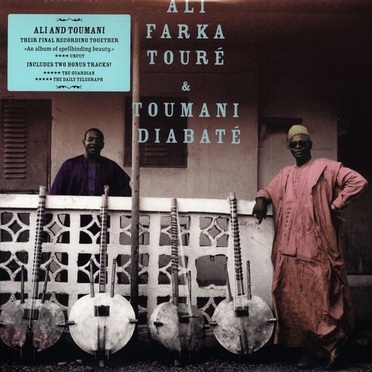 Ali Farka Toure, Toumani Diabate










Label: World Circuit
Genre: Folk, World & Country
Gatefold Sleeve.
Back Cover Notes :
Their final Recording Together.
The Follow-up To The Grammy Award-Winning
'In The Heart Of The Moon'
Recorded at Livingston Studios, London 24th, 25th, 26th June 2005.
With Thanks To Lucy Duran, Nigel Williamson, Saul Presa & Sara Daoud.
Songs Published By World Circuit Music (1,2,5,6,7,8 & 10), by Rykomusic Ltd (3,4 & 9) And By World Circuit/Rykomusic Ltd (11).
℗ 2009 World Circuit
© 2009 World Circuit
---
Track
Ruby
Sabu Yerkoy
Be Mankan
Doudou
Warbé
Kenouna (Bonus Track)
Samba Geladio
Sina Mory
56
Fantasy
Machengoidi
Kana Kassy (Bonus Track)
Kala Djula
Producer: Nick Gold
UPC: 769233008312