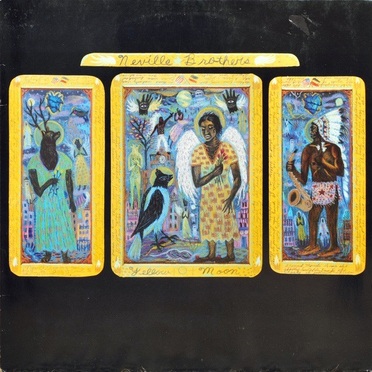 The Neville Brothers










Label: A&M Records
Duration: 52:40
Genre: Rock, Soul, Jazz, Folk, Funk, Folk Rock, Pop Rock, World & Country, Soul Jazz, Bayou Funk
Made in West Germany
PRS Hannover embossed on backsleeve
Mastered at Fantasy Studios, Berkeley, CA
Recorded at Daniel Lanois' Studio on the Move
Special Thanks To:
Bill Graham Management-Bill Graham, Nick Clainos, Morty Wiggins, Arnold Pustilnik, Mick Brigden, Ray Etzler, Kevin Burns and Cynthia Parsons;
Neville Productions-Shannon Chabaud, Steve Eggerton, Jan Bateman, Charles Brady, Eric Kolb;
Rosebud Music Agency-Mike Kappus and Tom Chauncy;
A
Craig Hayes at Zumwalt, Almon and Hayes; John & Charlotte Brenes.
With Help From:
Pyramid Audio; P.P.L. Productions; Jimmy Mack; "Home Team"; Ricky Castrillo; Mike Montero and Boo; John & Charlotte Brenes
Dedication:
The Neville Brothers dedicate this album to the memory of:
Mr. and Mrs. Arthur Neville, Sr.; George "Big Chief Jolly" Landry; James Black; David Lastie; St. Jude;
and is created with love for the entire Neville Nation.
"This music is dedicated to sufferers around the world and, most of all, to Jah God, the great spirit, the source of all our inspirations. May his love heal the world soon."
One Heart, The Neville Brothers
Artwork Painting Courtesy Janet Fleischer Gallery/Philadelphia; Cevin-Morris, Inc./NYC
℗ 1989 A A2: Neville Music/Apache Red Music; A3: Greyhound Music; A4: Kags Music; A5: Neville Music/SAIB Music; A6: M. Whitmark & Sons
B1: Neville Music/Long Overdue; B2: Neville Music/Chief Jolly Music; B3: M. Whitmark & Sons; B4: Peter International Corp.; B5: Neville Music/Chief Jolly Music; B6: Neville Music/Chief Jolly Music
---
| Track | Duration |
| --- | --- |
| My Blood | 4:11 |
| Yellow Moon | 4:04 |
| Fire And Brimstone | 3:57 |
| A Change Is Gonna Come | 3:43 |
| Sister Rosa | 3:29 |
| With God On Our Side | 6:37 |
| Wake Up | 3:21 |
| Voo Doo | 4:26 |
| The Ballad Of Hollis Brown | 5:45 |
| Will the Circle be Unbroken | 5:16 |
| Healing Chant | 4:34 |
| Wild Injuns | 3:17 |
Producer: Daniel Lanois