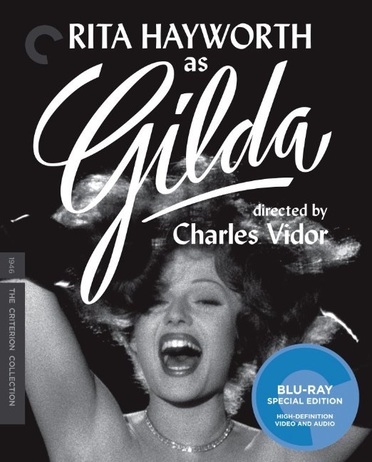 "I was true to one man once... and look what happened..."










Stars: Rita Hayworth, Glenn Ford, George Macready, Joseph Calleia, Steven Geray
Director: Charles Vidor
Writer: E.A. Ellington, Jo Eisinger
Language: English
Studio: Criterion Collection
Duration: 110
Rated: NR
DVD Release: January 2016
Just arrived in Argentina, small-time crooked gambler Johnny Farrell is saved from a gunman by sinister Ballin Mundson, who later makes Johnny his right-hand man. But their friendship based on mutual lack of scruples is strained when Mundson returns from a trip with a wife: the supremely desirable Gilda, whom Johnny once knew and learned to hate. The relationship of Johnny and Gilda, a battlefield of warring emotions, becomes even more bizarre after Mundson disappears...
---
| | |
| --- | --- |
| Rita Hayworth | Gilda Mundson Farrell |
| Glenn Ford | Johnny Farrell / Narrator |
| George Macready | Ballin Mundson |
| Joseph Calleia | Det. Maurice Obregon |
| Steven Geray | Uncle Pio |
| Joe Sawyer | Casey |
| Gerald Mohr | Capt. Delgado |
| Mark Roberts | Gabe Evans (as Robert Scott) |
| Ludwig Donath | German Cartel Member |
| Donald Douglas | Thomas Langford (as Don Douglas) |
Genre: Drama, Film Noir, Romance, Thriller
Media: Blu-ray
Sound: LPCM Mono