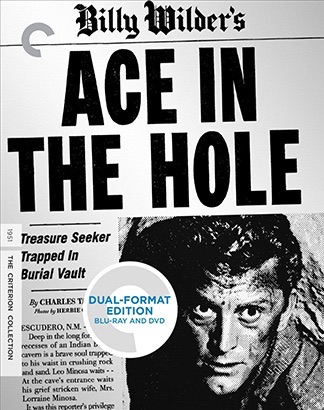 Rough, tough Chuck Tatum, who battered his way to the top ... trampling everything in his path - men, women and morals !










Stars: Kirk Douglas, Jan Sterling, Bob Arthur
Director: Billy Wilder
Writer: Billy Wilder, Lesser Samuels, Walter Newman, Victor Desny
Language: English
Studio: Criterion Collection
Duration: 111
Rated: K-16
DVD Release: May 2014
Billy Wilder's Ace in the Hole is one of the most scathing indictments of American culture ever produced by a Hollywood filmmaker. Kirk Douglas (Spartacus) gives the fiercest performance of his career as Chuck Tatum, an amoral newspaper reporter who washes up in dead-end Albuquerque, happens upon the scoop of a lifetime, and will do anything to keep getting the lurid headlines. Wilder's follow-up to Sunset Boulevard is an even darker vision, a no-holds-barred expos' of the American media's appetite for sensation that has gotten only more relevant with time.
---
| | |
| --- | --- |
| Kirk Douglas | Chuck Tatum |
| Jan Sterling | Lorraine Minosa |
| Bob Arthur | |
| Robert Arthur | Herbie Cook (as Bob Arthur) |
| Porter Hall | Jacob Q. Boot |
| Frank Cady | Al Federber |
| Richard Benedict | Leo Minosa |
| Ray Teal | Sheriff Gus Kretzer |
| Lewis Martin | McCardle |
| John Berkes | Papa Minosa |
| Frances Dominguez | Mama Minosa |
| Gene Evans | Deputy Sheriff |
| Frank Jaquet | Sam Smollett |
| Harry Harvey | Dr. Hilton |
| Bob Bumpas | Radio Announcer |
| Geraldine Hall | Nellie Federber |
| Hugo Friedhofer | Composer |
| Charles Lang | Cinematographer |
Genre: Drama, Film Noir
Media: Blu-ray
Sound: LPCM Mono (48kHz, 24-bit)