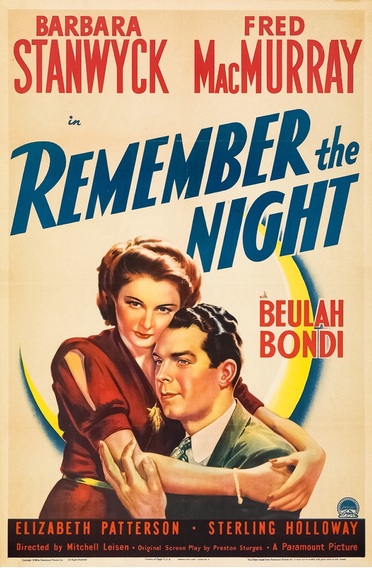 Remember the Night
(1940)
BARBARA and FRED in 1940's first great love affair ...!










Stars: Barbara Stanwyck, Fred MacMurray, Beulah Bondi, Elizabeth Patterson, Sterling Holloway
Director: Mitchell Leisen
Writer: Preston Sturges
Language: English
Studio: TCM / Universal Studios
Duration: 94
Rated: NR
DVD Release: November 2013
Turner Classic Movies, Universal and the Library of Congress are proud to present this new DVD release of Remember the Night (1940), featuring—for the first time—a beautiful transfer in crisp black-and-white from an original negative preserved by the Library of Congress.
Screen icons Barbara Stanwyck and Fred MacMurray star in this heartwarming holiday classic, the first of four films to feature the legendary duo. Stanwyck plays a petty shoplifter on trial for swiping jewelry just before Christmas, while MacMurray is the Assistant District Attorney who sends her off to jail then suffers a crisis of conscience and bails her out. When he invites her to join his family for the holidays, a love blossoms between the two that will strain, but ultimately redeem, all parties. Featuring a wonderful supporting cast (Beulah Bondi, Sterling Holloway and Elizabeth Patterson), stylish costumes by Edith Head, a charming script by Preston Sturges and superb direction by Mitchell Leisen, Remember the Night (1940) is a timeless holiday favorite that can be enjoyed in any season.
---
| | |
| --- | --- |
| Barbara Stanwyck | |
| Fred MacMurray | |
| Beulah Bondi | |
| Elizabeth Patterson | |
| Sterling Holloway | |
| Willard Robertson | Francis X. O'Leary |
| Charles Waldron | Judge in New York |
| Paul Guilfoyle | District Attorney |
| Charles Arnt | Tom |
| John Wray | Hank |
| Thomas W. Ross | Mr. Emory |
| Fred 'Snowflake' Toones | Rufus |
| Tom Kennedy | 'Fat' Mike |
| Georgia Caine | Lee's Mother |
| Virginia Brissac | Mrs. Emory |
| Spencer Charters | Judge at Rummage Sale |
| Jean Acker | Jury Member |
| Ambrose Barker | Customs Official |
| John Beck | Lee's Stepfather |
| Brooks Benedict | Courtroom spectator |
| William A. Boardway | Nightclub Patron |
| Avril Cameron | Jury Member |
| James Carlisle | Nightclub Patron |
| Steve Carruthers | Court Reporter |
| Chester Clute | Jewelry Salesman |
| Frank Conklin | Jury Member |
| Roy Crane | Undetermined Role |
| Harry Depp | Jury Member |
| Edmund Elton | Minister |
| Harry Evans | Nightclub Patron |
| Julia Faye | Jury Member |
| James Flavin | Court Attendant |
| Kenneth Gibson | Courtroom spectator |
| George Guhl | Court Guard |
| Beth Hartman | Jury Member |
| Milton Kibbee | Jury Member |
| Fuzzy Knight | Bandleader at Barn Dance |
| Lillian Lawrence | Townswoman at Rummage Sale |
| Kate Drain Lawson | Jail Matron |
| Carl M. Leviness | Courtroom spectator |
| Robert Locke Lorraine | Nightclub Patron |
| Martha Mears | Nightclub Singer |
| George Melford | Brian - the Bailiff |
| Pat O'Malley | Jury Member |
| Earl Pingree | Jury Member |
| Paul Power | Nightclub Patron |
| Walter Soderling | Jury Member |
| Bernard Suss | Jury Member |
| Julius Tannen | Jury Member |
| Ruth Warren | Undetermined Role |
| Florence Wix | Judge's wife |
Genre: Christmas, Romance
Media: DVD
Sound: Dolby Digital Mono