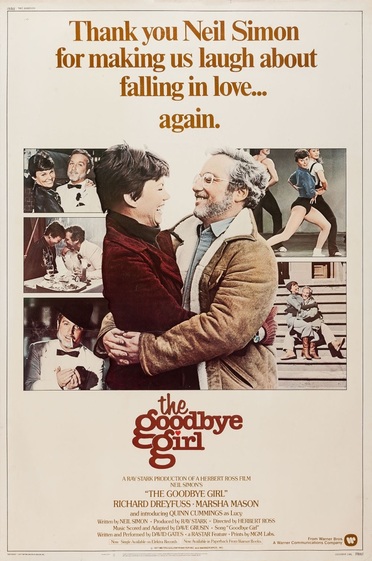 Thank you Neil Simon for making us laugh at falling in love...again.










Stars: Richard Dreyfuss, Marsha Mason, Quinn Cummings, Paul Benedict, Barbara Rhoades
Director: Herbert Ross
Writer: Neil Simon
Language: English
Studio: Metro-Goldwyn-Mayer
Duration: 110
Rated: PG
DVD Release: January 2000
Paula MacFadden knows: in romance, actors all follow the same stage instruction: Exit. Without warning, her actor boyfriend split today for a movie role and sublet their manhattan apartment. The new tenant's name: Elliot Garfield. Profession: Actor.
Richard Dreyfuss and Marsha Mason deliver comedy, zingy repartee and bitter-to-best romance in 'The Goodbye Girl', a lustrous charmer featuring Dreyfuss' Academy AwardÆ winning Best Actor performance. Neil Simon's screenplay deftly combines battle-of-the-sexes appeal with an off-Broadway subplot whose scenes "are the funniest since Mel Brooks staged 'Springtime for Hitler' [in 'The Producers']" (Roger Ebert, 'Chicago Sun-Times'). You'll laugh, cry and cheer. Just say hello to this magical movie.
---
| | |
| --- | --- |
| Richard Dreyfuss | Elliot Garfield |
| Nia Vardalos | Elliot Garfield |
| Marsha Mason | Paula McFadden |
| Quinn Cummings | Lucy McFadden |
| Paul Benedict | Mark |
| Barbara Rhoades | Donna |
| Theresa Merritt | Mrs. Crosby |
| Michael Shawn | Ronnie |
| Patricia Pearcy | Rhonda |
| Gene Castle | Assistant Choreographer |
| Daniel Levans | Dance Instructor |
| Daniel Levins | Dance Instructor (as Daniel Levans) |
| Marilyn Sokol | Linda |
| Anita Dangler | Mrs. Morganweiss |
| Victoria Boothby | Mrs. Bodine |
| Robert Costanzo | Liquor Store Salesman |
| Poncho Gonzalez | Mugger |
| Pancho González | Mugger |
| Jose Machado | Mugger (as José Machado) |
| Dave Grusin | Music |
| Hubert Kelly | Mugger |
| Jennifer Shull | Casting |
| Dana Laurita | Cynthia |
| Albert Brenner | Production Design |
| David S. Cass Sr. | Drunk (as Dave Cass) |
| Jerry Wunderlich | Set Decoration |
| Loyita Chapel | Strip Club Dancer |
| Caprice Clarke | Strip Club Dancer |
| Ann Roth | Costume Design |
| Esther Sutherland | Strip Club Manager |
| Clarence Felder | Critic |
| Kensuke Haga | Japanese Salesman |
| Ryohei Kanokogi | Japanese Salesman |
| Ruby Holbrook | Woman in Audience |
| Kristina Hurrell | Gretchen |
| David Matthau | Furniture mover |
| Milt Oberman | Furniture mover |
| Eddie Villery | painter |
| Joseph Carberry | Strip Club Customer |
| Eric Uhler | Strip Club Customer |
| Raymond J. Barry | Richard III Cast |
| Powers Boothe | Richard III Cast |
| Tom Everett | Richard III Cast |
| Janice Fuller | Richard III Cast |
| Munson Hicks | Richard III Cast |
| Robert Kerman | Richard III Cast |
| Jeanne Lange | Richard III Cast |
| Robert Lesser | Richard III Cast |
| Fred McCarren | Richard III Cast |
| Nicholas Mele | Richard III Cast |
| Maureen Moore | Richard III Cast |
| Joe Regalbuto | Richard III Cast |
| Peter Vogt | Richard III Cast |
| Wendy Cutler | Improvisation Group |
| Susan Elliot | Improvisation Group |
| Andy Goldberg | Improvisation Group |
| Paul Willson | Improvisation Group |
| Charles Silvern | Oliver Fry, Movie Director |
| Nicol Williamson | Oliver Fry |
| David M. Walsh | Cinematographer |
| David Gates | Composer |
| John F. Burnett | Film Editor |
| Kaye Pownall | hair stylist |
| Allan Snyder | makeup artist (as Allan Whitey Snyder) |
| Carrie White | hair stylist: Miss Mason |
| Roger M. Rothstein | Unit Production Manager |
| Robert P. Cohen | second assistant director: New York |
| Edward D. Markley | second assistant director (as Edward Markley) |
| Jack Roe | Assistant Director |
| Spencer Deverell | assistant art director (as Spencer Deverill) |
| Dennis J. Parrish | property master |
| Thomas Saccio | property master: New York |
| Frank L. Brown | set dressing lead man (uncredited) |
| Jerry Jost | sound |
| William L. McCaughey | sound (as William McCaughey) |
| John Riordan | sound editor (as John P. Riordan) |
| James Sabat | sound: New York |
| Robert Davenport | uncredited |
| Ken Dufva | foley artist (uncredited) |
| Al Griswold | special effects: New York (as Albert Griswold) |
| Victor Paul | stunts (uncredited) |
| Terence Harkin | assistant camera |
| Norman Harris | Gaffer |
| Richard Moran | key grip |
| Thomas P. Powell | mgm rigging gaffer: Los Angeles Unit |
| Richard Quinlan | gaffer: New York |
| Roger Shearman | camera operator (as Roger Sherman Jr.) |
| William H. Steiner | camera operator: New York (as William Steiner Jr.) |
| Mel Traxel | Still Photographer |
| Robert Ward | key grip: New York |
| Josh Weiner | still photographer: New York |
| Doug Byers | electrician (uncredited) |
| Vinnie Gerardo | assistant camera (uncredited) |
Genre: Comedy : Comedies : Romance : Stage Play : Self-Discovery : Recommended
Media: DVD
Sound: Dolby Digital