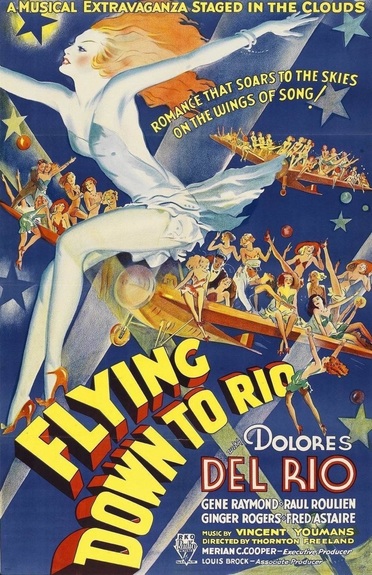 Flying Down to Rio
(1933)
A musical extravaganza staged in the clouds!










Stars: Dolores del Rio, Gene Raymond, Raul Roulien, Ginger Rogers, Fred Astaire
Director: Thornton Freeland
Writer: Lou Brock, Anne Caldwell
Language: English
Studio: RKO Radio Pictures
Duration: 89
Rated: NR
DVD Release: October 2006
Aviator and band leader Roger Bond is forever getting his group fired for flirting with the lady guests. When he falls for Brazilian beauty Belinha de Rezende it appears to be for real, even though she is already engaged. His Yankee Clippers band is hired to open the new Hotel Atlântico in Rio and Roger offers to fly Belinha part way home. After a mechanical breakdown and forced landing, Roger is confident and makes his move, but Belinha plays hard to get. She can't seem to decide between Roger and her fiance Júlio. When performing the airborne production number to mark the Hotel's opening, Júlio gets some intriguing ideas...
---
| | |
| --- | --- |
| Dolores del Rio | Belinha De Rezende |
| Gene Raymond | Roger Bond |
| Raul Roulien | Julio Rubeiro |
| Ginger Rogers | Honey Hale |
| Fred Astaire | Fred Ayres |
| Blanche Friderici | Dona Elena de Rezende |
| Walter Walker | Senor De Rezende |
| Etta Moten | The Colored Singer |
| Roy D'Arcy | One of the Three Greeks |
| Maurice Black | One of the Three Greeks |
| Armand Kaliz | One of the Three Greeks |
| Paul Porcasi | The Mayor |
| Reginald Barlow | The Banker |
| Eric Blore | The head waiter |
| Alyce Ardell | Maid |
| Eddie Arden | Bellhop |
| Eddie Borden | Eddie - Yankee Clipper |
| Ray Cooke | Yankee Clipper Banjo Player |
| Vina Gale | Dancer |
| Jane Gumber | Dancer |
| Margaret Harding | Dancer |
| Pauline High | Dancer |
| Grace Walston Jester | Dancer |
| Mary Kornman | Belinha's Friend |
| Martha La Venture | Dancer |
| Iris Lancaster | Dancer |
| Clarence Muse | Caddy in Haiti |
| Franklin Pangborn | Hammerstein - the Hotel Manager |
| Adrian Rosley | Hotel Atlântico Manager |
| Vincent Youmans | Composer |
| J. Roy Hunt | Cinematographer |
| Jack Kitchin | Editor |
Genre: Classics, Comedy, Musicals
Media: DVD
Sound: Mono