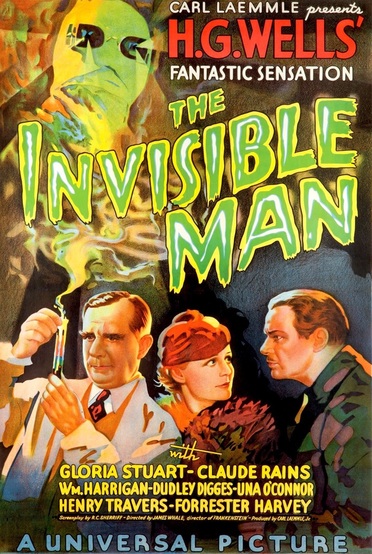 Catch me if you can!










Stars: Claude Rains, Gloria Stuart, William Harrigan, Henry Travers, Una O'Connor
Director: James Whale
Writer: H.G. Wells, R.C. Sherriff, Preston Sturges, Philip Wylie
Language: English
Studio: Universal
Duration: 68
Claude Rains delivers a remarkable performance in his screen debut as a mysterious doctor who discovers a serum that makes him invisible. Covered by bandages and dark glasses, Rains arrives at a small English village and attempts to hide his amazing discovery. But the same drug which renders him invisible slowly drives him to commit acts of unspeakable terror. Based on H.G. Wells' classic novel and directed by the master of macabre James Whale, THE INVISIBLE MAN not only fuelled a host of sequels but features some special effects that are still imitated today.
---
| | |
| --- | --- |
| Claude Rains | Dr. Jack Griffin aka The Invisible Man |
| Gloria Stuart | Flora Cranley |
| William Harrigan | Dr. Arthur Kemp |
| Henry Travers | Dr. Cranley |
| Una O'Connor | Jenny Hall |
| Forrester Harvey | Herbert Hall |
| Holmes Herbert | Chief of Police |
| E.E. Clive | Constable Jaffers |
| Dudley Digges | Chief Detective |
| Harry Stubbs | Inspector Bird |
| Donald Stuart | Inspector Lane |
| Merle Tottenham | Millie |
| Robert Brower | Farmer |
| D'Arcy Corrigan | Villager |
| Heinz Roemheld | Composer |
| Arthur Edeson | Cinematographer |
| Ted J. Kent | Editor |
Genre: Horror, Sci Fi
Media: DVD
Sound: Dolby Digital