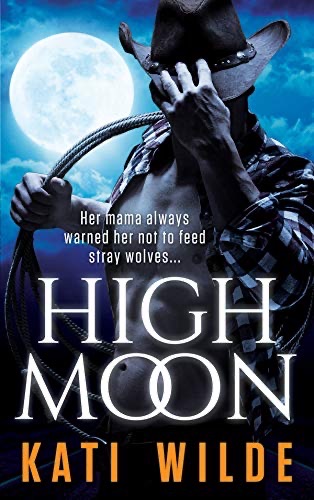 High Moon (Wolfkin & Berserkers)
(2018)










Author: Wilde Kati
Language: English
Pages: 434
Series: Wolfkin & Berserkers(#1/3)
Genre: Paranormal fiction
Format: Audible Audiobook
Running a ranch is hard enough, so Makena Laine doesn't need any complications in her life. But the development company that's determined to take her land isn't giving her much choice. They've run off her help, pulled down her fences...and she's afraid they've only just begun. 
 So when she stops alongside the road to assist a cowboy with a broken-down truck, she isn't looking for more trouble, no matter how gorgeous that trouble is. Ethan Grimmson is bigger than any man has a right to be, doesn't say much, and—if she's honest—he's also a bit scary. Yet considering that she's in danger of losing her ranch...maybe scary is exactly what she needs.
If so, then scary is exactly what she's going to get—in the form of a giant werewolf. Because Ethan's got teeth and claws, and he's been drifting a long time, hunting the murderers who killed his family—until an irresistible scent drags him straight to Makena's ranch. Eventually, he'll have to rip out his heart and leave her behind; but for now, he'll protect her from the vultures circling her land. Except the threat stalking them is bigger than either could have imagined, and is leading to a showdown that might destroy them both...