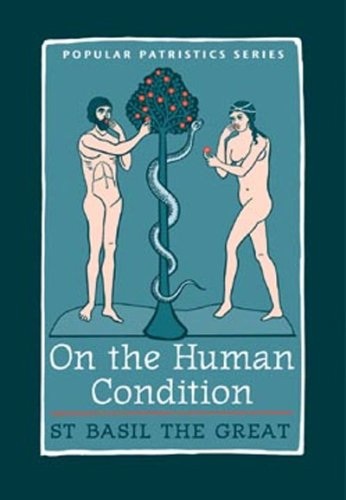 On The Human Condition: St Basil the Great (St. Vladimir's Seminary Press "Popular Patristics
(2005)










Author: BASIL
Publisher: St. Vladimir's Seminary Press
Pages: 126
Series: St. Vladimir's Seminary Press "Popular P
ISBN: 9780881412949
Genre: Religion & Spirituality
Format: Paperback
The assorted writings in this volume are a wonderful addition to every armchair theologian's library, especially as St. Basil "the Great" was one of the greatest Church Fathers of the late 4th century. On the Human Condition is concerned essentially with theological anthropology and includes:
On the Origin of Humanity
- Discourse 1: On that which is according to the Image
- Discourse 2: On the human being
Homily Explaining that God is Not the Cause of Evil
Homily Against Anger
Homily on the Words "Be Attentive to Yourself"
Letter 233, to Bishop Amphilochius, Who Has Asked a Question
Long Rules (Selections)
These provide a wonderful introduction to the main contours of the understanding of humanity that was present in the Greek Fathers, and which would become normative for later Eastern Orthodox theology. The image of humanity that emerges is one of incredible dignity and tragic brokenness. "Neither does each know himself as he is", writes St. Basil. St. Basil paints a picture of humanity corrupted by sin, but rather than such corruption turning humanity into autonomous, rebellious agents, sin renders humanity confused and driven by that which it does not understand. "Father forgive them, for they know not what they do."
Although we are made in the image and likeness of God, the likeness is lost and image of God within is defaced. Thus Christ shows us what true humanity is, and the Holy Spirit perfects this within us. "Christianity is that which gives likeness unto God." The doctrine of deification - becoming by grace what God is by nature - is important here, because in the light of Christ we understand what we were made for, and not just what we have fallen from.
What many readers may find most refreshing here is that, even though St. Basil's homilies and writings are set within a deep and thoughtful theological worldview, this does not rob them of a practical orientation. The Long Rules, of which selections are presented here, are oriented towards teaching about Christian life in community; the Homily Against Anger is similar in that it deals with "real world" experience. We cannot hope to change if we do not know about ourselves, and we cannot know ourselves without knowing Christ, "the new Adam". St. Basil's homilies and writings here point the way towards greater integration within - new humanity - through spiritual pursuit: communion with Christ.