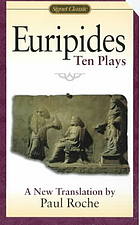 10 plays










Author: Euripides.
Publisher: Signet Classic
Language: en
ISBN: 9780451527004
Genre: Drama, Mythological plays, Satyr plays, Tragedies (Drama), Translations
Of all the ancient Greek dramatists, Euripides has the most to say to modern readers. His principle themes- the oppression of women, the folly of war, and the tensions between freedom and order, faith and reason, dogma and fact- are as relevant today as they were millennia ago. The plays continue to shock, inspire, and remind us what it means to be human."--Back cover.