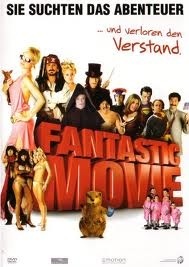 Epic Movie
We Know It's Big. We Measured.










Stars: Kal Penn, Adam Campbell, Jennifer Coolidge, Jayma Mays, Faune A. Chambers
Director: Jason Friedberg, Aaron Seltzer
Writer: Jason Friedberg, Aaron Seltzer
Language: German
Studio: Regency Enterprises
Duration: 84
Four troubled orphans from four separate movie scenarios who are bound together in a wacky chocolate factory after receiving golden tickets to go on an 'epic adventure.' After they escape from the clutches of a very scary Willy Wonka they discover the magical world of 'Gnarnia' through an enchanted wardrobe. There they must seek the help of a randy lion, a hoard of mutants from the x academy, students of witchcraft and wizardry, funky swash-buckling pirates and a mischievous beaver to defeat the evil white bitch!
---
| | |
| --- | --- |
| Kal Penn | Edward |
| Adam Campbell | Peter Pervertsky |
| Jennifer Coolidge | White Bitch |
| Jayma Mays | Lucy |
| Faune A. Chambers | Susan Pervertsky (as Faune Chambers) |
| Crispin Glover | Willy Wonka |
| Tony Cox | Bink |
| Héctor Jiménez | Mr. Tumnus (as Hector Jimenez) |
| Darrell Hammond | Captain Jack Swallows |
| Carmen Electra | Mystique |
| Fred Willard | Aslo |
| David Carradine | Museum Curator |
| Kevin McDonald | Harry Potter |
| George Alvarez | Ron Weasley |
| Crista Flanagan | Hermione Granger |
| Dana Seltzer | Flight attendant |
| Dane Farwell | Albus Dumbledore |
| Tad Hilgenbrink | Cyclops (as Tad Hilgenbrinck) |
| Jim Piddock | Magneto |
| Vince Vieluf | Wolverine (as Groovy) |
| Kahshanna Evans | Storm |
| Lindsey Kraft | Rogue |
| Jareb Dauplaise | Nacho Libre |
| Rico Rodriguez | Chanchito |
| Danny Jacobs | Borat / Pirate with Eye Patch |
| David Lehre | Ashton Kutcher |
| James Walker Sr. | Samuel Jackson |
| Tysen Knight | Kanye West (as Cordele Taylor) |
| Alla Petrou | Paris Hilton |
| Gregory Jbara | Mel Gibson |
| Jill Latiano | Singing Pirate Girl |
| Abe Spigner | Flavor Flav |
| Shawn McDonald | P. Diddy Faun |
| Lauren Conrad | Herself |
| Katt Williams | Harry Beaver (voice) (as Katt M. Williams) |
| Nick Steele | Lead Archer |
| Brennan Thomas | Woodsman |
| David J. Catching | Aslo's Camp Band |
| Jesse Hughes | Aslo's Camp Band |
| Brian J. O'Connor | Aslo's Camp Band (as Brian O'Connor) |
| Gene Trautmann | Aslo's Camp Band |
| Kenny Yates | Pirate with Heart |
| Daniel Joseph | Pirate |
| Taran Killam | Pirate |
| Jeremy Rowley | Pirate |
| Qiana Chase | Pirate Wench |
| Jillian Grace | Pirate Wench |
| Masha Lund | Pirate Wench |
| Pollyanna Salas-Uruena | Pirate Wench |
| Sara Jean Underwood | Pirate Wench (as Sara Underwood) |
| Olivia Hardt | Cribs Faun |
| Zee James | Cribs Faun |
| Ginny Jones | Cribs Faun |
| Britten Kelley | Cribs Faun |
| Arielle Vandenberg | Cribs Faun |
| Heather Storm | Aslo's Girl |
| Irina Voronina | Jogging Girl |
| Audra Lynn | Wardrobe Girl |
| Darko Belgrade | James Bond |
| Brooklyn Freed | Bond Girl |
| Michelle Lang | Bond Girl (as Michelle Misty Lang) |
| Sabi Dorr | Blacksmith |
| David Whatley Zepeda | Silas the Monk (as David Whatley) |
| Mike Grief | Prison Guard |
| Mary Castro | Breast Bite Woman |
| Ron Léroy | Nose Bite Guy |
| Thomas Van Tassel | Crotch Bite Guy |
| Lichelle D. Ebner | Morphed Mystique |
| Paul Zies | Thug |
| Roscoe Lee Browne | Narrator (voice) |
| Ronald Lee Clark | Oompa Loompa |
| Joe Gieb | Oompa Loompa |
| Arturo Gil | Oompa Loompa |
| Ricardo Gil | Oompa Loompa |
| Michael Lee Gogin | Oompa Loompa |
| Joseph S. Griffo | Oompa Loompa |
| Pancho Moler | Oompa Loompa |
| Mighty Mike Murga | Oompa Loompa |
| Mark Povinelli | Oompa Loompa |
| Jon Simanton | Oompa Loompa |
| David Steinberg | Oompa Loompa |
| John Tamaki | Oompa Loompa |
| Kevin Thompson | Oompa Loompa |
| Tyce Diorio | Willy Dance Double |
| Richard Steelo Vasquez | Curator Dance Double (as Richard Steeio Vasquez) |
| Megan Hiratzka | Dancing Pirate Girl |
| Samantha Faye Lee | Dancing Pirate Girl (as Samantha Lee) |
| Philip Albuquerque | Breakdancing Pirate (as Philip 'Spee-D' Albuquerque) |
| Jaime Burgos III | Breakdancing Pirate (as Jaime "Venum" Brugos III) |
| Oren Michaeli | Breakdancing Pirate (as Oren "Flea Rock" Michaeli) |
| Frankie DeMiranda | Dancing Soldier |
| Chadd Smith | Madd Chadd |
| Anwar Burton | Michael Jackson |
| Yousef Abu-Taleb | Daniel |
| Monica Ford | The Hot Nun (uncredited) |
| Dave Gist | Man-Boobs! (uncredited) |
| Kevin Hart | Silas (uncredited) |
| Vilayna LaSalle | Faun (uncredited) |
| Nathan Mutter | Stormtrooper (uncredited) |
| Phillip Sanchez | Monk #3 - Nacho Libre spoof (uncredited) |
Genre: Adventure, Comedy
Media: DVD
Sound: Dolby Digital