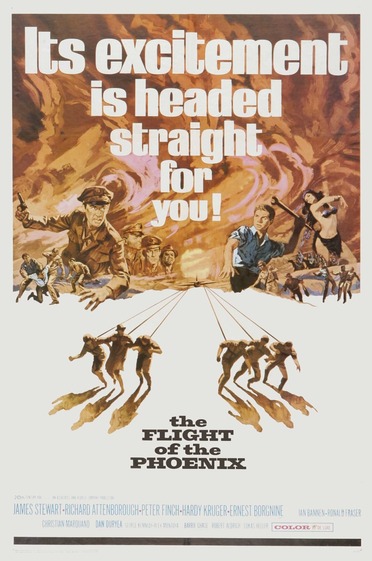 The Flight Of The Phoenix
(1965)
The Flight of the Phoenix
One of the most startling twists of fate you have ever experienced in a motion picture!










Stars: Dennis Quaid, Tyrese Gibson, Giovanni Ribisi, Miranda Otto, Tony Curran
Director: Robert Aldrich
Writer: Lukas Heller, Trevor Dudley Smith
Language: English
Studio: 20th Century Fox Home Entertainment
Duration: 142
Any film with Jimmy Stewart in a leading role is sure to be a hit and Flight of the Phoenix doesn't disappoint. A plane crash in the desert follows into a gripping two hour film of survival and hope. Led by Jimmy Stewart, the crew which include great acting talents like Richard Attenborough, Peter Finch and Ernest Borgnine courageously try to survive the desert heat, lack of water, and high tempers between crew members. When all hope of a rescue is gone, an idea by a German model plane maker, to rebuild the crashed craft, initially not taken seriously by Jimmy Stewart, is eventually seen as the only option of survival and the movie climaxes into a gripping story of team effort and a race against time to get the plane flying. This is a highly recommended film that will have you on the edge of your seat right to the end. The film got 4stars because the UK DVD lacked even the simplest extra, like a trailer. I also recommend watching 'Sands of the Kalahari,' a simialr survival story.
---
| | |
| --- | --- |
| James Stewart | Frank Towns |
| Richard Attenborough | Lew Moran |
| Peter Finch | Captain Harris |
| Hardy Krüger | Heinrich Dorfmann (as Hardy Kruger) |
| Ernest Borgnine | Trucker Cobb |
| Ian Bannen | Crow |
| Ronald Fraser | Sergeant Watson |
| Christian Marquand | Dr. Renaud |
| Dan Duryea | Standish |
| George Kennedy | Bellamy |
| Gabriele Tinti | Gabriel |
| Alex Montoya | Carlos |
| Peter Bravos | Tasso |
| William Aldrich | Bill |
| Barrie Chase | Farida |
| Frank De Vol | Composer |
| Joseph F. Biroc | Cinematographer |
| Michael Luciano | Editor |
Genre: Action & Adventure
Media: DVD
Sound: Dolby Digital 2.0