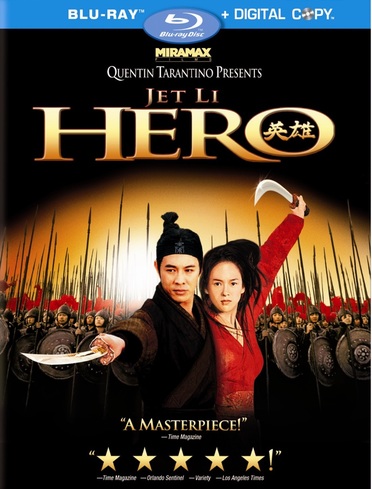 Ying xiong
One man's strength will unite an empire










Stars: Jet Li, Tony Leung Chiu Wai, Maggie Cheung, Ziyi Zhang, Daoming Chen
Director: Yimou Zhang
Writer: Feng Li, Bin Wang, Yimou Zhang
Language: English
Studio: Beijing New Picture Film Co.
Duration: 99
Rated: PG-13
DVD Release: November 2004
In ancient China, before the reign of the first emperor, warring factions throughout the Six Kingdoms plot to assassinate the most powerful ruler, Qin. When a minor official defeats Qin's three principal enemies, he is summoned to the palace to tell Qin the story of his surprising victory.
---
| | |
| --- | --- |
| Jet Li | Nameless |
| Tony Leung Chiu Wai | Broken Sword |
| Maggie Cheung | Flying Snow |
| Ziyi Zhang | Moon |
| Daoming Chen | King of Qin |
| Donnie Yen | Sky |
| Zhongyuan Liu | Old scholar |
| Tianyong Zheng | Old Servant |
| Yan Qin | Prime Minister |
| Chang Xiao Yang | General |
| Yakun Zhang | Commander |
| Ma Wen Hua | Head Eunuch |
| Jin Ming | Eunuch |
| Xu Kuang Hua | Pianist |
| Wang Shou Xin | Musician |
| Tan Dun | Composer |
| Christopher Doyle | Cinematographer |
| Angie Lam | Editor |
| Vincent Lee | Editor |
| Ru Zhai | Editor |
Genre: Action, Adventure
Media: Blu-ray
Sound: DTS