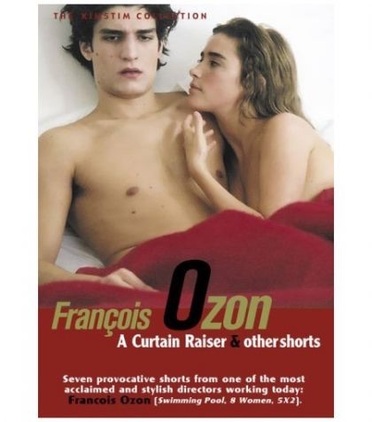 François Ozon : A Curtain Raiser and Other Shorts










Stars: Louis Garrel
Director: François Ozon
Language: English
Studio: Kino Video
Duration: 30
DVD Release: September 2007
"Victor" (1993, 14 minutes) Ozon steals a smidgen from Hal Ashby's "Harold and Maude" in this black comedy about a teenager (Francois Genty) who is about to shoot himself in the mouth but decides instead to kill his parents as they sleep -- better they die than to be hurt by his suicide, he reasons. No one on his rich parents' country estate seems to notice or care, not the pretty maid who sees the stiffs and just dusts off their feet, not the senile gardener who just goes on clipping the hedges, and not the hunky Lawrencian groundskeeper who casually steals the dead lady's jewelry in front of the murderous kid.
"Une Rose Entre Nous" ("A Rose Between Us") (1994, 26 minutes) Rose (Sasha Hails), a sexy, unstable British woman living in Paris, causes a scene at a hair salon in order to lure outside the cute boy working there (Rodolphe Lesage). She brings him clubbing, where he notices she's very friendly with an old man and a middle-aged man and seems to have a business arrangement with them. The kid's infatuation with Rose leads to him to do her a very big favor in this seriocomic gem. This film and "Victor" are not included in the 2003 shorts collection.
"Action Verite" ("Truth or Dare") (1994, 4 minutes) Shot, through most of its short duration, in extreme facial closeups, this little piece watches as four teens, two boys and two girls, play truth or dare. The dares are all sexual, and the final shot holds a surprise.
"La Petite Mort" ("The Little Death") (1995, 25 minutes) Gay twentysomething artist Paul (Francois Delaive) takes photos of men's faces at the moment of orgasm (what the French call "the little death"). But Paul's bourgeois sister Camille (Camille Japy) doesn't approve of his project or of his living with another man (long-haired Adonis Martial Jacques). She is overworked running the family business now that their father is on his deathbed, and she urges her brother to come see him before it's too late. Paul has been estranged from his dad for years, based on his belief that the old man never loved him and thought he was ugly the first moment he saw him. Paul is in for a surprise in this poignant, beautifully constructed tale, the best on the disc.
"Scenes de lit" ("Bedtime Stories") (1996, 25 minutes) This film actually consists of seven very short shorts, each featuring two people in bed and each, again, shot mostly in closeup. In "Le Trou Noir" ("The Black Hole"), a young guy asks a prostitute to go down on him while singing "La Marseillaise," which she accomplishes with eye-popping results. "Monsieur Propre" ("Mr. Clean") gathers comic steam as a woman in bed with a guy for the first time hears him explain how he does laundry but once a year and doesn't bathe. "Our sense of smell has been destroyed by capitalism," he argues. He has a point, but still. In "Madame," a 52-year-old woman wonders why the handsome young guy next to her picked her up. The minute-long "Tete Beche" ("Heads or Tails") has a pretty girl lying down next to a guy whose head is at her feet and vice versa. They simply count down from 100 and when they get to 69, there's a spurt of giggles and tussling. In "L'Homme Ideal" ("The Ideal Man") a young woman tells the older woman next to her of her romantic disappointments and her inability to find the ideal guy. The companion explains, most tenderly, that the ideal man need not be a man. "Love in the Dark" ("L'Amour Dans le Noir") finds another newly acquainted couple in bed for the first time; he can't make love with the lights on, which leads her to exclaim that she's "sick of meeting guys with problems." "Guys are complicated," he explains with sage understatement. The finale, "Les Puceaux" ("The Virgins") is fairly pointless: a gay man who says he has never been with a girl and a straight kid who says he has never been with a guy swap sucks briefly then kiss.
"X2000" (1998, 7 minutes) Ozon moves from grainy 16mm to rich, sensuous 35mm for this surreal, more characteristically Ozonian short. A young guy wakes up in his apartment next to a stocky, older woman, walks nude to get something for his hangover, sees two young men (twins perhaps) sleeping together on the floor, then watches from his window another nude couple making love in the building across the street. There's no dialogue until a few unsubtitled words are exchanged between the man and the woman. From the title we can surmise that this is 1/1/2000 and the characters are spiritually renewed seeing that, after all that Y2K blather, Armageddon has not arrived.
"Un Lever de Rideau" (A Curtain Raiser") (2006, 29 minutes) Also shot in 35 mm, Ozon's most recent French-language work (his newest film, "Angel," starring Romola Garai, is his first in English) stars Louis Garrel of Bertolucci's "Dreamers" as a neurotic Parisian grown impatient waiting for his girlfriend to arrive. Apparently the beautiful girl, Rosette (Vihana Giocante), has been late to their assignations a total of 36 hours over the eight months they've been seeing each other, and Bruno has had it. "I could have written six poems" in that time, he laments to his philosophical friend Pierre (Mathieu Amalric), whose presence at the apartment, other than to be a sounding board, is one of the mysteries of this film, which owes a lot to the funny, sad and sometimes profound chattiness of the films of Eric Rohmer. Which is a very good thing.
---
| | |
| --- | --- |
| Víctor | 1993, 14 minutes |
| Une Rose Entre Nous (A Rose Between Us) | 1994, 26 minutes |
| Action Verite (Truth or Dare) | 1994, 4 minutes |
| La Petite Mort (The Little Death) | 1995, 25 minutes |
| Scenes de lit (Bedtime Stories) | 1996, 25 minutes |
| X2000 | 1998, 7 minutes |
| Un Lever de Rideau (A Curtain Raiser) | 2006, 29 minutes |
Genre: Art House & International
Media: DVD