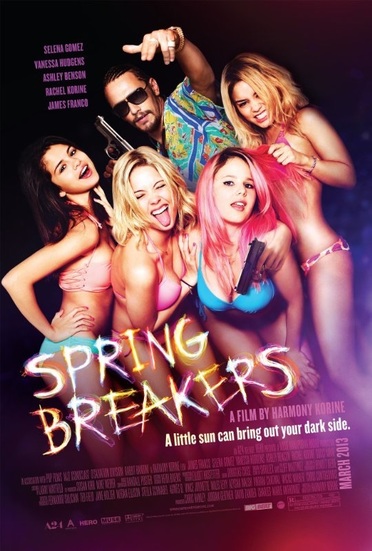 A little sun can bring out your dark side.










Stars: James Franco, Selena Gomez, Vanessa Hudgens, Ashley Benson, Rachel Korine, Gucci Mane, Heather Morris, Ash Lendzion, Emma Holzer, Lee Irby, Jeff Jarrett, Josh Randall, Travis Duncan, John McClain, Paige Anderson
Director: Harmony Korine
Writer: Harmony Korine
Language: English
Studio: A24
Duration: 94
Rated: R
DVD Release: July 2013
Spring Break Foreverrrrrrr.....Faith (Selena Gomez), Candy (Vanessa Hudgens), Brit (Ashley Benson) and Colby (Rachel Korine) are best friends anxious to cut loose for spring break, but the don't have the money. After holding up a restaurant for quick cash, the girls head to the beach in a stolen car for what they think will be the party of the lifetime......until they're thrown in jail. But they are bailed out by Alien (James Franco), a local rapper, drug pusher and arms dealer, who lures them into a criminal underbelly that's as shocking as it is liberating!!
---
| | |
| --- | --- |
| James Franco | Alien |
| Selena Gomez | Faith |
| Vanessa Hudgens | Candy |
| Ashley Benson | Brit |
| Rachel Korine | Cotty |
| Gucci Mane | Archie |
| Heather Morris | Bess |
| Ash Lendzion | Forest |
| Emma Holzer | Heather |
| Lee Irby | History Professor |
| Jeff Jarrett | Youth Pastor |
| Josh Randall | Jock 1 |
| Russell Curry | DJ (as Russell Curry aka Dangeruss) |
| Travis Duncan | Jock 2 |
| John McClain | Judge |
| Paige Anderson | Female guard |
| Russell Stuart | DJ (as Russell Curry aka Dangeruss) |
Genre: Comedy, Drama
Media: Blu-ray
Sound: DTS-HD Master