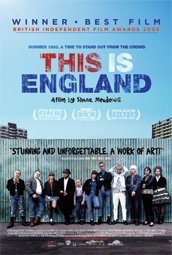 Run with the crowd, stand alone, you decide.










Stars: Thomas Turgoose, Stephen Graham, Jo Hartley, Andrew Shim, Vicky McClure, Joseph Gilgun, Rosamund Hanson, Andrew Ellis, Perry Benson, George Newton, Frank Harper, Jack O'Connell, Kriss Dosanjh, Kieran Hardcastle, Chanel Cresswell, Danielle Watson, Sophie
Director: Shane Meadows
Writer: Shane Meadows
Language: English
Studio: Warp Film
Duration: 102
Rated: Contains very strong racist violence and language
DVD Release: September 2008
THIS IS ENGLAND tells the story of Shaun (Thomas Turgoose), an 11 year old kid growing up in the North of England. Set during the summer holidays of 1983, it follows his journey from a shaggy haired ruffian grieving the loss of his father into a shaven headed thug whose anger and pain are embraced by the local skinhead fraternity.
Largely based on Meadows' own personal experience, THIS IS ENGLAND not only captures a specific point in British history, but also beautifully articulates the allure of being part of a gang. Brilliantly charting a course from the joyous early passages to darker territory, Meadows also skilfully and with great sensitivity deals with the complexities of rage, race and masculinity.
Featuring astounding performances from Stephen Graham (Gangs of New York) and newcomer Thomas Turgoose, THIS IS ENGLAND is a riveting and deeply moving portrait of an often-overlooked moment in cultural history and is arguably Meadows' masterpiece.
---
| | |
| --- | --- |
| Thomas Turgoose | Shaun |
| Stephen Graham | Combo |
| Jo Hartley | Cynth |
| Andrew Shim | Milky |
| Vicky McClure | Lol |
| Joseph Gilgun | Woody (as Joe Gilgun) |
| Rosamund Hanson | Smell |
| Andrew Ellis | Gadget |
| Perry Benson | Meggy |
| George Newton | Banjo |
| Frank Harper | Lenny |
| Jack O'Connell | Pukey Nicholls |
| Kriss Dosanjh | Mr. Sandhu |
| Kieran Hardcastle | Kes |
| Chanel Cresswell | Kelly |
| Danielle Watson | Trev |
| Sophie Ellerby | Pob |
| Hannah Walters | Shoe Shop Assistant |
| Dave Laws | Mr. Dudley |
| Michael Socha | Bully |
| Ian Smith | Teacher |
| Dave Blant | Teacher |
| Matthew Blamires | Teasing kid |
| James Burrows | Teasing kid |
| Harpal Hayer | Football Kid |
| Terry Haywood | Football Kid |
| Nimesh Jani | Football Kid |
| Ronald Reagan | Himself (archive footage) (uncredited) |
| Margaret Thatcher | Herself (archive footage) (uncredited) |
Genre: Crime, Drama
Media: Blu-ray
Sound: DTS-HD Master