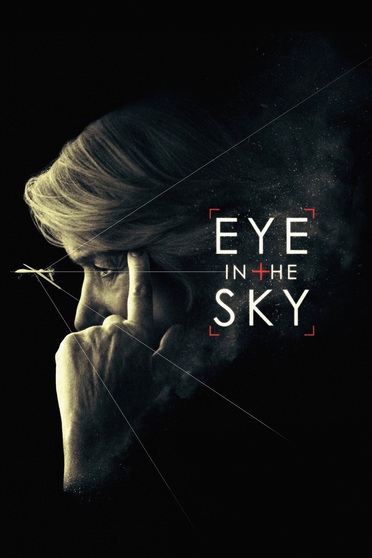 The commander is in England. The drone pilot is in America. The terrorist is in Kenya. And the authority to strike is up in the air.










Stars: Faisa Hassan, Aisha Takow, Armaan Haggio, Helen Mirren, Bob Chappell
Director: Gavin Hood
Writer: Guy Hibbert
Language: English
Studio: eOne Films
Duration: 102
Rated: R
DVD Release: March 2016
EYE IN THE SKY stars Helen Mirren as Colonel Katherine Powell, a UK-based military officer in command of a top secret drone operation to capture terrorists in Kenya. Through remote surveillance and on-the-ground intel, Powell discovers the targets are planning a suicide bombing and the mission escalates from "capture" to "kill." But as American pilot Steve Watts (Aaron Paul) is about to engage, a nine-year old girl enters the kill zone triggering an international dispute, reaching the highest levels of US and British government, over the moral, political, and personal implications of modern warfare.
---
| | |
| --- | --- |
| Faisa Hassan | Fatima Mo'Allim |
| Aisha Takow | Alia Mo'Allim |
| Armaan Haggio | Musa Mo'Allim |
| Helen Mirren | Colonel Katherine Powell |
| Bob Chappell | Simon Powell |
| Alex Gallafent | Reporter |
| Aaron Paul | Steve Watts |
| Babou Ceesay | Sergeant Mushtaq Saddiq |
| Carl Beukes | Sergeant Mike Gleeson |
| Meganne Young | Lizzy |
| Kate Liquorish | Female Sergeant |
| Richard Stephenson | Staff Sergeant |
| Gabriella Pinto | Female Corporal |
| Tylan Wray | Male Corporal |
| Armand Aucamp | Airman |
| Hossain Dahir | Driver One |
| Mondé Sibisi | Muhammad Abdisalaam |
| Paul Hepker | Composer |
| Warren Masemola | Agent Atieno |
| Mark Kilian | Composer |
| Ahmed Mohamed Ali | Omar |
| Haris Zambarloukos | Cinematographer |
| Alan Rickman | Lieutenant General Frank Benson |
| Olga Gainullina | |
| Megan Gill | Editor |
| Phoebe Fox | Carrie Gershon |
| Lemogang Tsipa | Matt Levery |
| Paul Spauling | Command Support Staff |
| Gavin Hood | Lieutenant Colonel Ed Walsh |
| Tyrone Keogh | Sammy |
| Kenneth Fok | First Crewman |
| Zak Rowlands | Second Crewman - K. Moore |
| Henry Pilime | Parklands Gate Guard |
| Sammy Maina | Parklands Gate Guard |
| Hassan Abdullah | Shahid Ahmed |
| Julian Stone | Voice Actor |
| Ebby Weyime | Damisi |
| Luke Tyler | Robert Powell |
| Vusi Kunene | Major Moses Owiti |
| Mohammed Ali Sahra | Militia Leader |
| Chaltu Ahmed | Poor Woman |
| Francis Chouler | Jack Cleary |
| Ed Suter | Benson's Aide-De-Camp |
| Richard McCabe | George Matherson |
| Jeremy Northam | Brian Woodale |
| Monica Dolan | Angela Northman |
| Roberto Meyer | Rasheed Hamud |
| Roberto Kyle | Rasheed Hamud |
| Omar Abu Kadir | Driver Two |
| Deborah Aquila | Casting |
| Kim Engelbrecht | Lucy Galvez |
| Kate Dowd | Casting |
| James Alexander | Image Analyst |
| James Gracie | Image Analyst (as James Alexander) |
| Moonyeenn Lee | Casting |
| Barkhad Abdi | Jama Farah |
| Dileef Rahim | Amadu Gate Guard |
| Tricia Wood | Casting |
| Robert Omache | Amadu Gate Guard |
| Clare Harlow | Casting Associate |
| Istar Takow | Woman Buying Bread |
| Bronson Mwangi | Kenyan Captain |
| Lex King | Susan Danford / Ayesha Al-Hady |
| Andrew Ahula | Street Vendor (Buckets) |
| Hilowli Hassan | Militia Man |
| Abdi Mohamed Osman | Amadu Mukhtar |
| Dek Hassan | Abdullah Al-Hady |
| Kyle Prowse | Set Costumer |
| Ali Mohamed | Khalid |
| Stacey Dunn | Costume Supervisor |
| Ma Mohamed | Osman Abade |
| Morag Cameron | Script Supervisor |
| John Heffernan | Major Harold Webb |
| Lance Peters | armorer |
| Iain Glen | James Willett |
| Sheena Peters | armorer |
| Jessica Jones | Kate Barnes |
| Justin Hawkins | first assistant camera |
| Daniel Fox | Tom Bellamy |
| James Frater | steadicam operator |
| Graham Hopkins | Nigel Adler |
| Keith Bernstein | Still Photographer |
| Michael O'Keefe | Ken Stanitzke |
| John McKay | Gaffer |
| Sonia Esguiera | Esther Alvarez (as Sonia Esgueira) |
| Stephanie Traut | visual effects editor |
| Mohamed Abdirahmaan | Abdi |
| Theo le Roux Preis | CG supervisor |
| Mohamed Fidow | Abdi Militia Soldier |
| Nikos Kalaitzidis | Visual Effects Supervisor |
| Laila Robins | Ms. Jillian Goldman |
| Simon Hansen | Visual Effects Supervisor |
| Sabrina Hassan | Woman Buying Bread (as Sabrina Hassan Abdulle) |
| Mickey Kirsten | special effects supervisor |
| Fatima Mohamed Mohamud | Woman Buying Bread |
| Vasili Rinquest | Special Effects Coordinator |
| Timayare Shamso Hassan | Passerby |
| Fowzia Dahir | Woman Buying Bread |
| Abdilatief Takow | Ali |
| Fatumo Sheknoor Ali | Pedestrian |
Genre: Drama, Thriller, War
Media: DVD
Sound: Dolby Surround 7.1