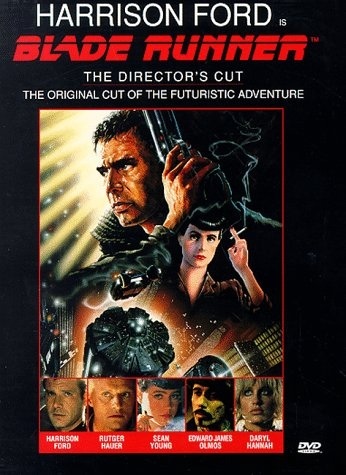 Blade Runner (The Director's Cut)
(1982)
Some things have to be believed to be seen.










Stars: Harrison Ford, Rutger Hauer, Sean Young, Edward James Olmos, M. Emmet Walsh
Director: Ridley Scott
Writer: Philip K. Dick, David Webb Peoples, Hampton Fancher
Language: English
Studio: Warner Home Video
Duration: 117
Rated: R (Nudity)
DVD Release: March 1997
Ridley Scott's reconstructed version of the sci-fi noir favorite stars Harrison Ford as a retired detective who is called back to the police force in order to track down artificial humans called "replicants" in Los Angeles circa 2019. As his investigation takes him through the city's dystopian landscape, he is thrust into an adventure that raises questions about his own existence. With Sean Young, Rutger Hauer and Daryl Hannah. Director's cut; 116 min. Widescreen (Enhanced); Soundtracks: English Dolby Digital Surround stereo, French Dolby Digital Surround stereo; Subtitles: English, Spanish, French. NOTE: This Title Is Out Of Print; Limit One Per Customer.
---
| | |
| --- | --- |
| Harrison Ford | Rick Deckard |
| Rutger Hauer | Roy Batty |
| Sean Young | Rachael |
| Edward James Olmos | Gaff |
| M. Emmet Walsh | Bryant |
| Daryl Hannah | Pris |
| Craig T. Nelson | Steve Freeling |
| JoBeth Williams | Diane Freeling |
| William Sanderson | J.F. Sebastian |
| Beatrice Straight | Dr. Lesh |
| Joe Turkel | Eldon Tyrell |
| James Hong | Hannibal Chew |
| Dominique Dunne | Dana Freeling |
| Kevin Thompson | Bear |
| Oliver Robins | Robbie Freeling |
| Hy Pyke | Taffey Lewis |
| Heather O'Rourke | Carol Anne Freeling |
| Michael McManus | Ben Tuthill |
| Bob Okazaki | Howie Lee |
| Judith Burnett | Ming-Fa |
| Virginia Kiser | Mrs. Tuthill |
| Martin Casella | Marty |
| Sharon Hesky | Bar Patron |
| Tom Hutchinson | Bartender |
| Richard Lawson | Ryan |
| Rose Mascari | Bar Patron |
| Zelda Rubinstein | Tangina |
| Steve Pope | Policeman |
| Lou Perryman | Pugsley |
| Alexis Rhee | Geisha #1 |
| Clair E. Leucart | Bulldozer Driver |
| James Karen | Mr. Teague |
| Dirk Blocker | Jeff Shaw |
| Brion James | Leon Kowalski |
| Joanna Cassidy | Zhora |
| Morgan Paull | Holden |
| John Edward Allen | Kaiser |
| Kimiko Hiroshige | Cambodian Lady |
| Carolyn DeMirjian | Saleslady |
| Leo Gorcey Jr. | Louie (the bartender) |
| Kelly Hine | Showgirl |
| Charles Knapp | Bartender |
| Jiro Okazaki | Policeman |
| Robert Reiter | Policeman |
Genre: Experiments Gone Wrong, Futuristic, Horror, Kids & Family, Robots & Androids, Sci-Fi & Fantasy, Sci-Fi Action, Technology Run Amok
Media: DVD
Sound: Dolby