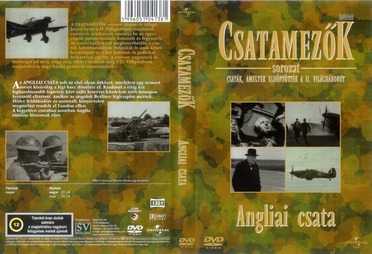 In 1940, the Royal Air Force fights a desperate battle against the might of the Luftwaffe for control of the skies over Britain, thus preventing the Nazi invasion of Britain.










Stars: Michael Caine, Trevor Howard, Harry Andrews, Curd Jürgens, Ian McShane
Director: Guy Hamilton
Writer: James Kennaway, Wilfred Greatorex
Language: English
Studio: MGM (Video & DVD)
Duration: 132
Rated: G
DVD Release: October 2005
színes magyarul beszélő angol háborús filmdráma, 133 perc, 1969
12 éven aluliak számára a megtekintése nagykorú felügyelete mellett ajánlott
rendező: Guy Hamilton
forgatókönyvíró: Wilfred Greatorex, James Kennaway
operatőr: Freddie Young
díszlettervező: Bert Davey, William Hutchinson, Gil Parrondo, Jack Maxsted
zene: Ron Goodwin, William Walton
producer: Harry Saltzman
vágó: Bert Bates
szereplő(k):
Michael Caine
Laurence Olivier (Hugh Dowding)
Christopher Plummer (Colin Harvey)
Curd Jürgens (Richter báró)
Michael Bates (Warrick)
Harry Andrews
Ian McShane (Andy)
Kenneth More (Baker)
Nigel Patrick (Hope)
Susannah York (Maggie Harvey)
Trevor Howard
Michael Redgrave
Erre a filmre eddig 101 szavazat érkezett.
Jó film, szavazok rá!
A film az 1940-es években játszódik, és a II. világháború egyik legfontosabb eseményét dolgozza fel. Az angliai csata az első olyan küzdelem volt, amelyben egy nemzet sorsát kizárólag a légi harc döntötte el. A hosszú hónapokon keresztül zajló keserves küzdelem, a világ két leghatalmasabb légiereje között zajlott. A csata tetőpontja az volt, amikor az angolok légi csapást mértek Berlinre. Azonban a felbőszült diktátor, Hitler azonnal súlyos megtorlást parancsolt London ellen...
---
| | |
| --- | --- |
| Michael Caine | Squadron Leader Canfield |
| Trevor Howard | Air Vice Marshal Keith Park |
| Harry Andrews | Senior Civil Servant |
| Curd Jürgens | Baron von Richter |
| Ian McShane | Sgt. Pilot Andy |
| Kenneth More | Group Capt. Baker |
| Laurence Olivier | Air Chief Marshal Sir Hugh Dowding |
| Nigel Patrick | Group Capt. Hope |
| Christopher Plummer | Squadron Leader Colin Harvey |
| Michael Redgrave | Air Vice Marshal Evill |
| Ralph Richardson | Sir David Kelly (British minister to Switzerland) |
| Robert Shaw | Squadron Leader Skipper |
| Patrick Wymark | Air Vice Marshal Trafford Leigh-Mallory |
| Susannah York | Section Officer Maggie Harvey |
| Michael Bates | Warr. Off. Warrick |
| Robert Flemyng | Wing Cmdr. Willoughby |
| Edward Fox | Pilot Officer Archie |
| W.G. Foxley | Squadron Leader Evans |
| Barry Foster | Squadron Leader Edwards |
| James Cosmo | Jamie |
| Jack Gwillim | Senior Air Staff Officer |
| Wilfried von Aacken | Gen. Osterkamp (as Wilfried Van Aacken) |
| Karl-Otto Alberty | General Jeschonnek - Luftwaffe Chief of Staff (as Karl Otto Alberty) |
| Helmut Kircher | Boehm |
| Paul Neuhaus | Maj. Föhn |
| Dietrich Frauboes | Field Marshal Milch (Inspector General, Luftwaffe) |
| Malte Petzel | Col. Beppo Schmidt (Luftwaffe Intelligence) |
| Peter Hager | Field Marshal Albert Kesselring |
| Hein Riess | Reichsmarschall Hermann Göring |
| Rolf Stiefel | Adolf Hitler |
| Manfred Reddemann | Maj. Falke |
| Alexander Allerson | Maj. Brandt |
| Alf Jungermann | Brandt's Navigator |
| Jean Wladon | Jean Jacques |
| Isla Blair | Mrs. Andy |
| John Baskcomb | Farmer (as John Bascomb) |
| Tom Chatto | Willoughby's Assistant Controller |
| David Griffin | Sgt. Pilot Chris |
| André Maranne | French NCO (as Andre Maranne) |
| Myles Hoyle | Peter |
| Anthony Nicholls | Minister |
| Duncan Lamont | Flight Sgt. Arthur |
| Nicholas Pennell | Simon |
| Sarah Lawson | Skipper's Wife |
| Andrzej Scibor | Ox |
| Mark Malicz | Pasco |
| Reinhard Horras | Bruno |
| Wolf Harnisch | Gen. Fink (as Wolf Harnish) |
| Nikki Van der Zyl | Dubbing (voice) |
Genre: War
Media: DVD
Sound: AC-3