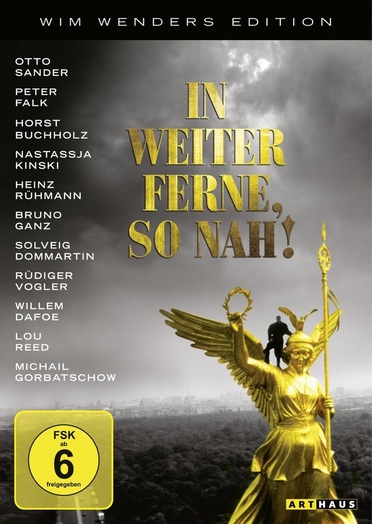 In weiter Ferne, so nah!
(1993)
Your favorite Angels are back!










Stars: Otto Sander, Bruno Ganz, Mikhail Gorbachev, Nastassja Kinski, Martin Olbertz
Director: Wim Wenders
Writer: Ulrich Zieger
Language: English
Studio: Bioskop Film
Duration: 144
Rated: PG-13
A sequel to Wender's Der Himmel über Berlin (Wings of desire), it again follows a group of angels in the German capital who look longingly upon the life of humans.
---
| | |
| --- | --- |
| Otto Sander | Cassiel |
| Bruno Ganz | Damiel |
| Mikhail Gorbachev | Himself (as Michail S. Gorbatschow) |
| Nastassja Kinski | Raphaela |
| Martin Olbertz | Dying man |
| Aline Krajewski | Raissa |
| Monika Hansen | Hanna / Gertrud Becker |
| Rüdiger Vogler | Phillip Winter |
| Heinz Rühmann | Konrad |
| Tilmann Vierzig | Young Konrad |
| Hanns Zischler | Dr. Becker |
| Antonia Westphal | Young Hanna |
| Ingo Schmitz | Anton Becker |
| Günter Meisner | Forger |
| Sascha Wohlatz | Teenager |
| Lasse Lehmann | Jugendlicher |
| Marcel Jelinski | Jugendlicher |
| Nils Schildhauer | Jugendlicher |
| Patrick Winz | Jugendlicher |
| Benjamin Winz | Jugendlicher |
| Camilla Pontabry | Doria |
| Solveig Dommartin | Marion |
| Frédéric Darie | Maurice (as Frederic Darie) |
| Jean-Marie Rase | Jules |
| Lajos Kovács | Lali (as Lajos Kovacs) |
| Bruno Krief | Paul |
| Armance Brown | Paula |
| Henri Alekan | Kapitan |
| Peter Falk | Himself |
| Hugues Delforge | Les Elastonautes |
| Claude Poncelet | Les Elastonautes |
| Susanne Jansen | Frau in der Galerie |
| Bob Rutman | Künstler |
| Yella Rottländer | Winters Engel |
| Alexander Hauff | Taxifahrer |
| Horst Buchholz | Tony Baker |
| Andrzej Pieczynski | Czomsky |
| Natan Fyodorovsky | Russe (as Natan Fedorowskij) |
| Ronald Nitschke | Patzke |
| Louis Cochet | Louis |
| Lou Reed | Himself |
| Willem Dafoe | Emit Flesti |
| Johanna Penski | Blumenfrau |
| Steffi Hiller | Passant |
| Eberhard Knappe | Passant |
| Shefqet Namani | Hütchenspieler |
| Klaus-Jürgen Steinmann | Polizist |
| Matthias Zelic | Verkäufer |
| Nadja Engel | Frau mit der Ohrfeige |
| Daniela Nasimcova | Engel (as Daniela Nasincova) |
| Gunter Kelm | Museumswärter |
| Heinz-Peter Graubaum | Museumswärter |
| Claude Lergenmüller | Andre |
| Melanie Pontabry | Melanie |
| Alfred Sczczot | Grumpy |
| Udo Samel | Sicherheitsbeamter |
| Gerd Wameling | Sicherheitsbeamter |
| Tom Farrell | Patient in Coma (uncredited) |
| Curt Bois | Der sterbene Homer (scenes deleted) |
| Laurent Petitgand | Composer |
| Esam Tolba | Fourth Gambler |
| Graeme Revell | Composer |
| Jürgen Jürges | Cinematographer |
| Günter Fenner | unit manager |
| Peter Przygodda | Editor |
| Albrecht Konrad | Production Designer |
| Esther Walz | Custome Designer |
| Christine Atar | Makeup Artist |
| Jeannette Latzelsberger | assistant makeup artist |
| Valeska Schitthelm | additional makeup artist |
| Hasso von Hugo | Makeup Artist |
| Karsten Brünig | Unit Production Manager |
| Udo Heiland | Production Manager |
| Scott Kirby | first assistant director |
| Anyon Rey | second assistant director |
| Caroline Veyssière | second assistant director |
| Michael Fechner | property master |
| Andreas Olshausen | construction coordinator |
| Wolfgang Osterholzer | Carpenter |
| Martin Schreiber | set dresser |
| Tommy Goodwin | adr mixer |
| Gunther Kortwich | sound |
| Hans-Walter Kramski | sound effects |
| Michael Kranz | Sound Re-Recording Mixer |
| Matthias Lempert | sound effects |
| Bernd Schmidl | sound effects |
| Andreas Walther | Boom Operator |
| Michael Luppino | Special Effects |
| Gerd Nefzer | special effects (as Gerd Feuchter) |
| Uli Nefzer | special effects supervisor (as Ulrich Nefzer) |
| Morten McAdams | matte painter / optical effects |
| Frank Schlegel | optical effects |
| Hubert von Seidlein | matte painter |
| Clemans Bail | Stunts |
| François Doge | Stunt Coordinator |
| Jean-Claude Houbart | Stunts |
| Hardy Martins | Stunts |
| Denis Wyss | Stunts |
| Hagen Bogdanski | assistant second camera |
| Jürgen Bosse | Gaffer |
Genre: Drama, Fantasy, Mystery, Romance
Media: DVD
Sound: Dolby