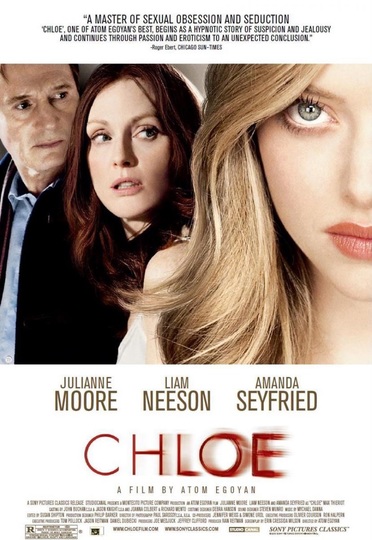 If the one you love was lying to you, how far would you go to find out the truth?










Stars: Julianne Moore, Liam Neeson, Amanda Seyfried, Max Thieriot, R.H. Thomson, Nina Dobrev, Mishu Vellani, Julie Khaner, Laura DeCarteret, Natalie Lisinska, Tiffany Lyndall-Knight, Meghan Heffern, Arlene Duncan, Kathy Maloney, Rosalba Martinni, Tamsen McDonou
Director: Atom Egoyan
Writer: Anne Fontaine, Erin Cressida Wilson
Language: English
Studio: Studio Canal
Duration: 96
Rated: R
Catherine and David, she a doctor, he a professor, are at first glance the perfect couple. Happily married with a talented teenage son, they appear to have an idyllic life. But when David misses a flight and his surprise birthday party, Catherine's long simmering suspicions rise to the surface. Suspecting infidelity, she decides to hire an escort to seduce her husband and test his loyalty. Catherine finds herself 'directing' Chloe's encounters with David, and Chloe's end of the bargain is to report back, the descriptions becoming increasingly graphic as the meetings multiply.
---
| | |
| --- | --- |
| Julianne Moore | Catherine Stewart |
| Liam Neeson | David Stewart |
| Amanda Seyfried | Chloe |
| Max Thieriot | Michael Stewart |
| R.H. Thomson | Frank |
| Nina Dobrev | Anna |
| Mishu Vellani | Receptionist |
| Julie Khaner | Bimsy |
| Laura DeCarteret | Alicia |
| Natalie Lisinska | Eliza |
| Tiffany Lyndall-Knight | Trina (as Tiffany Knight) |
| Meghan Heffern | Miranda |
| Arlene Duncan | Party Guest |
| Kathy Maloney | Another Girl |
| Rosalba Martinni | Maria |
| Tamsen McDonough | Waitress |
| Kathryn Kriitmaa | Waitress 2 |
| Adam Waxman | Bartender |
| Krysta Carter | Young Co-Ed |
| Severn Thompson | Nurse |
| Sarah Casselman | Orals Student |
| David Reale | Boy |
| Milton Barnes | Boy 2 |
| Kyla Tingley | Woman Behind Bar |
| Sean Orr | Chloe's Client #1 |
| Paul Essiembre | Chloe's Client #2 |
| Rod Wilson | Chloe's Client #3 |
| Riley Jones | Stunt Hockey Player |
| Paul Sarossy | Cinematographer |
| Susan Shipton | Film Editor |
| Dominic Boucher | Sound Department |
| Richard Cadger | Sound Department |
| Jenna Dalla Riva | Sound Department |
| Jordan Darville | Sound Department |
| Markus Glunz | Sound Department |
| Christopher Guglick | Sound Department |
| John Loranger | Sound Department |
| Andy Malcolm | Sound Department |
| Steve Munro | Sound Department |
| Dave Nelson | Sound Department |
| Daniel Pellerin | Sound Department |
| Jan Rudy | Sound Department |
| Paul Shikata | Sound Department |
| David Drainie Taylor | Sound Department |
| Dave Wilson | Sound Department |
| David Gustav Fraser | Rivoli Patron |
| Mychael Danna | Composer |
| Phillip Barker | Production Designer |
| Jim Lambie | Set Decorator |
| Debra Hanson | Custome Designer |
| Suzanne Benoit | makeup department head |
| Diane Mazur | makeup artist: Amanda Seyfried |
| Ryan Reed | hair stylist: Amanda Seyfried |
| Susan Reilly Lehane | makeup artist: Julianne Moore |
| Adam Bocknek | Third Assistant Director |
| James Becker | construction coordinator |
| John Furrow | head carpenter |
| John Gailbraith | key scenic |
| John Galbraith | key scenic artist |
| Craig Grant | property master |
| Mayumi Konishi-Valentine | Set Designer |
| Aaron Morrison | graphics |
| Tracey Strikwerda | trainee assistant art director |
| Matthew Alan Taylor | storyboard artist |
| Bissa Scekic | Sound mixer |
| Don White | foley recording mixer |
Genre: Drama
Media: DVD
Sound: Dolby Digital