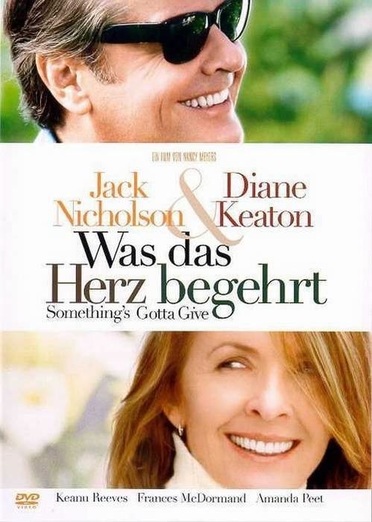 Something's Gotta Give
(2003)
Schmucks are people too.










Stars: Jack Nicholson, Diane Keaton, Keanu Reeves, Frances McDormand, Amanda Peet
Director: Nancy Meyers
Writer: Nancy Meyers
Language: English
Studio: Columbia Pictures
Duration: 128
DVD Release: March 2004
Harry Sanborn is an aged music industry exec with a fondness for younger women like Marin, his latest trophy girlfriend. Things get a little awkward when Harry suffers a heart attack at the home of Marin's mother Erica. Left in the care of Erica and his doctor, a love triangle starts to take shape.
---
| | |
| --- | --- |
| Jack Nicholson | Harry Sanborn |
| Diane Keaton | Erica Barry |
| Keanu Reeves | Julian Mercer |
| Frances McDormand | Zoë |
| Amanda Peet | Marin |
| Jon Favreau | Leo |
| Paul Michael Glaser | Dave |
| Rachel Ticotin | Dr. Martinez |
| Paige Butcher | Beauty |
| Tanya Sweet | Beauty |
| Kristine Szabo | Beauty |
| Krisztina Szabo | Beauty (as Kristine Szabo) |
| Daniella Van Graas | Beauty |
| Adam Levine | Music |
| Tamara Spoelder | Beauty |
| Sonja Francis | Beauty |
| Vanessa Hayden | Beauty |
| Vanessa Haydon | Beauty |
| Michael Ballhaus | Cinematographer |
| Joe Hutshing | Editor |
| Kathy Tong | Beauty |
| Vanessa Trump | Beauty |
| Jennifer Siebel | Younger Woman in Market |
| Marjie Gum | French Girl in Market |
| Jennifer Siebel Newsom | Younger Woman in Market (as Jennifer Siebel) |
| Robert Frank Telfer | Older Man in Market |
| Beatrice Quinn | Lady in Market |
| Connie Sawyer | Lady in Market |
| Lorraine Nicholson | Young Girl in Market |
| Ara Anton | Paramedic |
| Melette Le Blanc-Cabot | Hamptons Nurse |
| Suzanne Dizon | Hamptons Nurse |
| Audrey Wasilewski | Hamptons Nurse |
| Roxanne Beckford | Hamptons Nurse |
| Robin Pearson Rose | Hamptons Nurse |
| Tania Deighton | Harry's Assistant |
| Nicki Norris | Harry's Assistant |
| T. J. Thyne | Waiter |
| Lorna Scott | Mrs. Gimble |
| T.J. Thyne | Waiter |
| Elayn Taylor | NYC Nurse |
| Kadee Strickland | Kristen |
| Tayrene Mugridge | Harry's Dinner Date |
| Elayn J. Taylor | NYC Nurse (as Elayn Taylor) |
| Conroe Brooks | NYC Nurse |
| Taylor Block | Young Patient |
| Melissa Keller | Party Guest |
| Genelle Frenoy | Party Guest |
| Nichole Hiltz | Harry's Lunch Date |
| Lew Dauber | Actor in Cast Photos |
| Leslie Upson | Broadway Actress |
| Patrick Fischler | Stage Manager |
| Julia Sanford | Actor in Cast Photos (as Julie Sanford) |
| Lewis Dauber | Actor in Cast Photo (as Lew Dauber) |
| Julie Sanford | Actor in Cast Photos |
| Jamie Bullock | Actor in Cast Photos |
| Peter Spears | Danny Benjamin |
| Michelle Fabiano | Harry's Old Flame |
| Catherine McGoohan | Harry's Old Flame |
| Blaine Allen | Harry's Old Flame |
| Julia Rose | Harry's Old Flame |
| Joan Adelle Nelson | Harry's Old Flame |
| Cindy Joseph | Harry's Old Flame |
| Alexandra Neil | Harry's Old Flame |
| Susan Misner | Harry's Old Flame |
| Sean Smith | Maitre'D |
| MarÌa Esquivel | Hostess (as Maria Esquivel) |
| Madelyn Kennedy | Marin's Baby |
| Cass Asher | ER Patient |
| Vanna Bonta | ER Nurse |
| Raney Kennedy | Marin's Baby |
| André Crudo | Man in Hotel Lobby |
| Deborah Daulton-Morton | Christie's Auction Goer |
| AdËle Jacques | Ritz Concierge |
| Larry Lane | Karaoke Twin |
| Stewart Summers | Auction House Patron |
| Lynne Langdon | Market Shopper |
| Shashi Balooja | Bartender (uncredited) |
| John H. Tobin | Limo Driver |
| Alan Charof | Beaten Man (uncredited) |
| Scott R. Tomasso | Restaurant Socialite |
| Troy Christian | Dancer (uncredited) |
| Hans Zimmer | Composer |
| Arthur Rochester | production sound mixer |
| Dennis Drummond | Supervising Sound Editor |
| John Dalton | Waiter (uncredited) |
| Jeffrey J. Haboush | Sound Re-Recording Mixer |
| Ayse Eldek | Restaurant Patron (uncredited) |
| Bill W. Benton | Sound Re-Recording Mixer |
| Suzanne McCabe | Costume Designer |
| Elisabeth Granli | Young, Slinky Girl (uncredited) |
| Jeffrey Biggers | Sound Department |
| Jon Hutman | Production Designer |
| Scott Alan Taylor | Emergency Room Nurse |
| Raul A. Bruce | Sound Department |
| Kelcey Fry | Make-Up Artist |
| Daniel A. Lopez | Cafe Patron (uncredited) |
| Olivier Burgaud | Sound Department |
| Michael Germain | Make-Up Artist |
| Bill Burns | Sound Department |
Genre: Comedy, Drama, Romance
Media: DVD
Sound: Dolby Digital 5.1