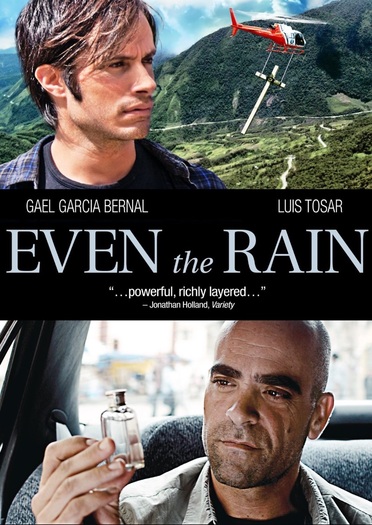 También la lluvia
Spain Conquered the New World for Gold 500 Years Later, Water is Gold Not Much Else has Changed...










Stars: Gael García Bernal, Luis Tosar, Karra Elejalde, Cassandra Ciangherotti, Juan Carlos Aduviri
Director: Icíar Bollaín
Writer: Paul Laverty
Language: English
Studio: AXN
Duration: 103
Rated: Unrated
DVD Release: November 2012
Spanish director Sebastian, his producer and all his crew are in Bolivia, in the Cochabamba area, to shoot a motion picture about Christopher Columbus, his first explorations and the way the Spaniards treated the Indians at the time. Costa has chosen this place because the budget of the film is tight and here he can hire local actors and extras on the cheap. Things go more or less smoothly until a conflict erupts over the privatization of the water supply. The trouble is that one of the local actors, is a leading activist in the protest movement...
---
| | |
| --- | --- |
| Gael Garcia Bernal | Sebastian |
| Luis Tosar | Costa |
| Karra Elejalde | Antón / Cristóbal Colón |
| Najwa Nimri | Isabel |
| Cassandra Ciangherotti | Maria |
| Alberto Iglesias | Original Music Composer |
| Juan Carlos Aduviri | Daniel / Hatuey |
| Raúl Arévalo | Juan / Antonio de Montesinos |
| Carlos Santos | Alberto / Bartolomé de las Casas |
| Vicente Romero | Actor comandante |
| Pau Cólera | Actor capitán |
| Leónidas Chiri | Teresa |
| Milena Soliz | Belén |
| Ezequiel Diaz | Bruno |
| Daniel Currás | Soldado gallego |
| Sonia Ovando | Ona / Sonia |
| Luis Bredow | Jefe de policía |
| Antonio Mora | Actor franciscano |
| Glenda Rodriguez | Asistente casting |
| Jorge Ortiz | Prefecto |
| Bernardo Arancibia Flores | Médico (as Bernardo Arancibia) |
| Alejandro Lanza | Enfermera |
| Fernando Cervantes | Sacerdote |
| Alejandra Lanza | Enfermera |
| Diego Ortiz | Guardia |
| Juan Pedro De Gaspar | Production Designer |
Genre: Drama
Media: DVD
Sound: Dolby Digital