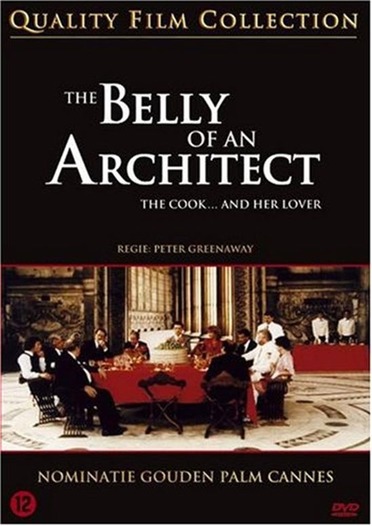 The Belly of an Architect
(1987)
Art is the food for madness.










Stars: Brian Dennehy, Chloe Webb, Lambert Wilson, Sergio Fantoni, Stefania Casini
Director: Peter Greenaway
Writer: Peter Greenaway
Language: English
Studio: Tangram Film
Duration: 112
An American architect arrives in Italy, supervising an exhibiton for a French architect, Boullée, who is famous for his oval structures. Through the course of 9 months he becomes obsessed with his belly, suffers severe stomach pains, loses his his wife, exhibition, his unborn child and finally his own life.
---
| | |
| --- | --- |
| Brian Dennehy | Stourley Kracklite |
| Chloe Webb | Louisa Kracklite |
| Lambert Wilson | Caspasian Speckler |
| Sergio Fantoni | Io Speckler |
| Stefania Casini | Flavia Speckler |
| Vanni Corbellini | Frederico |
| Alfredo Varelli | Julio |
| Geoffrey Copleston | Caspetti |
| Francesco Carnelutti | Pastarri |
| Marino Masé | Trettorio |
| Marne Maitland | Battistino |
| Claudio Spadaro | Mori |
| Rate Furlan | Violinist |
| Julian Jenkins | Old Doctor |
| Enrica Maria Scrivano | Mother |
| Ricardo Ussani | Little Boy |
| Stefano Gragnani | The Nose Man |
| Andrea Prodan | Dr.Artuso Amansa |
| Fabio Sartor | Policeman |
| Wim Mertens | Composer |
| Sacha Vierny | Cinematographer |
| John Wilson | Editor |
Genre: Drama
Media: DVD
Sound: 1