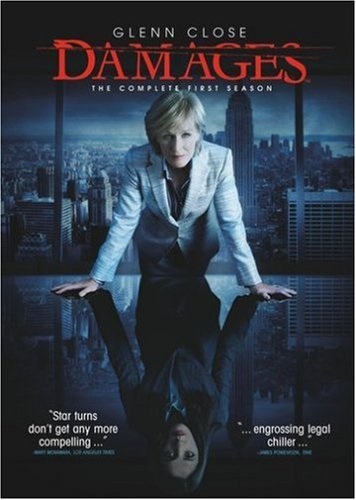 All judgements are final.










Stars: Glenn Close, Rose Byrne, Zeljko Ivanek, Noah Bean, Tate Donovan
Director: Daniel Attias, Allen Coulter, Guy Ferland, Greg Yaitanes, Ed Bianchi
Writer: Todd A. Kessler, Daniel Zelman, Glenn Kessler
Language: English
Studio: Sony Pictures
Duration: 581
Rated: NR (Not Rated)
DVD Release: June 2007
Smart, sleek, and more than a little wicked, the Golden Globe-winning series "Damages" proves that legal programs don't have to follow a well-worn formula in order to prove completely addictive. In fact, the show (from Todd and Glenn Kessler and Daniel Zelman, whose credits include "The Sopranos") steers clear from nearly all courtroom drama clichés over the course of its 13 episodes, and hews closer to classic film noir with the slowly-spun web of deceit that is woven around fresh-scrubbed lawyer Ellen Parsons (Rose Byrne). After joining the legal firm headed by uber-powerful litigator Patty Hewes (Glenn Close, who won a Golden Globe for her performance), Parsons lands a career-making case--a class-action lawsuit against millionaire Arthur Frobisher (Golden Globe nominee Ted Danson)--but discovers that digging deeply into the case not only reveals layers of corruption, cover-up, and potential scandal, but places her own life in jeopardy as well. Smart, mature writing and note-perfect performances, most notably by Danson as the perverse and complex Frobisher, but also by Tate Donovan, Zeliko Ivanek, Peter Facinelli, Philip Bosco and Peter Reigert, make "Damages" a genuine pleasure for law and mystery show fans, but also those craving a challenging series that delivers water cooler chat material in every episode. The three-disc set includes all 13 episodes as well as deleted scenes; among the featured extras are two choice commentaries, one with Close, the Kesslers and Zelman, and the other with Ivanek and the creators, both of which are chock-full of production and technical insights. A 30-minute making-of featurette, discussions about the characters by the creators, and a guide to class-action lawsuits rounds out the fine supplemental features. " --Paul Gaita"
---
| | |
| --- | --- |
| Glenn Close | Patty Hewes |
| Rose Byrne | Ellen Parsons |
| Zeljko Ivanek | Ray Fiske |
| Noah Bean | David Connor |
| Anastasia Griffith | Katie Connor |
| Tate Donovan | Tom Shayes |
| Ted Danson | Arthur Frobisher |
| Michael Nouri | Phil Grey |
| Zachary Booth | Michael Hewes |
| Glenn Kessler | Agent L.J. Werner |
| David Costabile | Detective Rick Messer |
| Timothy Olyphant | Wes Krulik |
| Marcia Gay Harden | Claire Maddox |
| William Hurt | Daniel Purcell |
| Tom Aldredge | Uncle Pete |
| Philip Bosco | Hollis Nye |
| Mario Van Peebles | Agent Randall Harrison |
| Tom Noonan | Detective Victor Huntley (17 episodes, 2009-2011) |
| Chris Messina | Chris Sanchez (16 episodes, 2011-2012) |
| Judd Hirsch | Bill Herndon (14 episodes, 2011-2012) |
| Campbell Scott | Joe Tobin (13 episodes, 2010) |
| Martin Short | Leonard Winstone (13 episodes, 2010) |
| Casey Siemaszko | Detective Dan Williams (13 episodes, 2007-2012) |
| Maya Days | Detective Rosario Ortiz (13 episodes, 2007-2012) |
| Debra Monk | Deniece Parsons (12 episodes, 2007-2012) |
| Li Jun Li | Maggie Huang (12 episodes, 2011-2012) |
| Ben Shenkman | Curtis Gates (11 episodes, 2010) |
| Dylan Baker | Jerry Boorman (10 episodes, 2011) |
| Ryan Phillippe | Channing McClaren (10 episodes, 2012) |
| John Goodman | Howard T. Erickson / ... (10 episodes, 2011) |
| Lily Tomlin | Marilyn Tobin (10 episodes, 2010) |
| Gillian Alexy | Gitta Novak (10 episodes, 2012) |
| John Hannah | Rutger Simon (10 episodes, 2012) |
| Michael Pemberton | Intimidating Man / ... (10 episodes, 2007-2010) |
| John Doman | Walter Kendrick (10 episodes, 2009) |
| Peter Facinelli | Gregory Malina (10 episodes, 2007) |
| Todd A. Kessler | Perry the Doorman (10 episodes, 2007-2011) |
| Janet McTeer | Kate Franklin (9 episodes, 2012) |
| Peter Riegert | George Moore / ... (9 episodes, 2007) |
| Donnie Keshawarz | Andrew Vida (9 episodes, 2007) |
| Kiley Liddell | Catherine Hewes (9 episodes, 2011-2012) |
| Derek Webster | Anthony Carter (8 episodes, 2011) |
| Ebon Moss-Bachrach | Nick Salenger (8 episodes, 2010) |
| Marlyne Barrett | Felicia Marquand (8 episodes, 2007) |
| Michael Gaston | Roger Kastle (8 episodes, 2007-2012) |
| Jennifer Roszell | Deb Shayes (8 episodes, 2007-2010) |
| Jeff Binder | Assailant / ... (8 episodes, 2007-2012) |
| Clarke Peters | Dave Pell / ... (8 episodes, 2009) |
| Dominic Chianese | Stuart Zedeck (7 episodes, 2010) |
| Darren Goldstein | Chris Sharp (7 episodes, 2007-2010) |
| Vanessa Ray | Tessa Marchetti / ... (7 episodes, 2010) |
| Wendy Moniz | Jill Burnham (7 episodes, 2009-2010) |
| Elliot Korte | Owen Frobisher (7 episodes, 2007-2010) |
| Jenna Elfman | Naomi Walling (7 episodes, 2012) |
| Darrell Hammond | The Deacon (7 episodes, 2009) |
| William Sadler | Helmut Torben / ... (6 episodes, 2012) |
| Brett Cullen | Wayne Sutry (6 episodes, 2009) |
| Carmen Goodine | Lila DiMeo (6 episodes, 2007) |
| Ana Reeder | Carol Tobin (6 episodes, 2010) |
| Glenn Fleshler | Detective Milton Trammell / ... (6 episodes, 2010) |
| Kevin Isola | IT Rep (6 episodes, 2007) |
| Stephen McGahan | 6 Year Old Erickson (6 episodes, 2011) |
| Drew Beasley | 9 Year Old Erickson (6 episodes, 2011) |
| Jesse Dean Montana | 13 Year Old Erickson (6 episodes, 2011) |
| Len Cariou | Louis Tobin (6 episodes, 2010) |
| Brandon Thane Wilson | 16 Year Old Erickson (6 episodes, 2011) |
| Paige Turco | Christine Purcell (6 episodes, 2009) |
| Mädchen Amick | Danielle Marchetti (6 episodes, 2010) |
| Aref Farraj III | Middle Eastern Boy / ... (6 episodes, 2011) |
| Bill Camp | Samurai Seven / ... (6 episodes, 2012) |
| Brooke Liddell | Catherine Hewes (6 episodes, 2011-2012) |
| Paul Carafotes | Man in Over Coat / ... (6 episodes, 2010) |
| Bailey Chase | Sean Everett (5 episodes, 2011) |
| David Pittu | Jack Shaw (5 episodes, 2011) |
| Matthew Davis | Josh Reston (5 episodes, 2009-2010) |
| Reiko Aylesworth | Rachel Tobin (5 episodes, 2010) |
| Adriane Lenox | Angel Auroro (5 episodes, 2011-2012) |
| Tara Summers | Alex Benjamin (5 episodes, 2010) |
| Alexandra Socha | Rachel Walling (5 episodes, 2012) |
| Seth Barrish | Robert Owen (5 episodes, 2011) |
| Miriam Shor | Carrie Parsons (5 episodes, 2007-2010) |
| Michael Laurence | Homeless Man (5 episodes, 2010) |
| Scott Johnsen | High Star Contractor (5 episodes, 2011) |
| Victor Arnold | Larry Popler (5 episodes, 2007) |
| Michael Kostroff | Judge Richard Gearheart (5 episodes, 2012) |
| Jack Gwaltney | Thomas Lowry (5 episodes, 2011) |
| JoAnna Rhinehart | Susan Marsden (5 episodes, 2007-2012) |
| Saundra Santiago | Karen Gonzales (5 episodes, 2007) |
| Keith Carradine | Julian Decker (5 episodes, 2010) |
| Damian Young | Well Dressed Man (5 episodes, 2007-2009) |
| Ami Brabson | Grief Counselor (5 episodes, 2009-2012) |
| Mark Tallman | Robert Franks (5 episodes, 2011) |
| Fisher Stevens | Therapist (4 episodes, 2011) |
| Garret Dillahunt | Marshall Phillips (4 episodes, 2007) |
| Gbenga Akinnagbe | Walid Cooper (4 episodes, 2012) |
| Craig Bierko | Terry Brooke / ... (4 episodes, 2010) |
| Bill Raymond | Albert Wiggins (4 episodes, 2010) |
| Usman Ally | Nasim Marwat (4 episodes, 2011) |
| Peter J. Fernandez | Judge J.T. Reilly (4 episodes, 2010) |
| Delaney Moro | Erica Purcell (4 episodes, 2009) |
Genre: Television
Media: DVD
Sound: AC-3